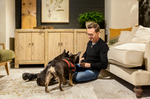 Meet Michael: Our Islington Store Manager
To coincide with the launch of our new London store, we've asked Michael, our Islington Store Manager, to give you a little insight into who he is and what makes him tick. Find out what his day to day is like, follow his journey into the world of interiors, and discover his favourite finds here at Cotswold Grey. 
Michael, tell us a little bit about yourself. 
I enjoy life and have a strong belief that we shouldn't take life for granted. I love to take 5 minutes and sit in a park and marvel at the natural world around us. I also enjoy spending time with friends and family and the biggest joys of my life, my two boys Cebu and Nido (my French bulldogs).
I love travelling and every summer I head to Sitges in Spain for a few weeks in the sun. But my happy place is right here in the UK, on the beach in Bramburgh in any weather.
How did you get into the world of interiors?
I've always had a passion for interiors from a young age, coming from a family of builders. I started my working life in the fashion industry and it was a natural progression to cross over to interiors.
What did you do before joining Cotswold Grey? 
My career in the luxury market started in Sydney when I managed a luxury lighting store where we imported the best lighting from Europe. I moved to London 18 years ago where I worked for Linley, starting as a Store Manager before progressing to Head of Retail where I ran 3 showrooms, 12 staff and all aspects of the retail business. After 12 years I needed new challenges and moved to Sollands in Mayfair, where the goal was to grow the retail side of the business as the major focus was on developments and interior design. 
What makes the new Cotswold Grey store so unique? 
Me, lol…. and the pieces. Each piece is unique and has its own story to tell. Run your hands across a table top and feel the wood and the history of the timber. Come and visit us and you can walk out with an egg cup or a whole interior. We will certainly inspire you!
What is your favourite product?
The Kingham sofa. It's what I would call a contemporary take on a traditional Chesterfield. It's so unique and such a statement piece, you won't find another like it. I love it.
What does a typical day look like in your store? 
Each day I make sure the showroom looks tidy and inviting for our customers. During the week my diary is often filled with engagements with our Interior Designers, and on the weekend there's a much greater focus on shoppers. 
How would you describe the aesthetic of the London Cotswold Grey store? 
Our new Islington store is very much about bringing the Cotswolds to London. We want to showcase how the natural patina of our pieces will work with a whole host of interiors, from contemporary to traditional. 
Step inside and you will find an ever-changing collection of one-of-a-kind pieces and limited collections. No two visits will be the same!
Finally, what is your cocktail of choice? 
Espresso martini!