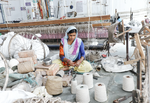 Meet Our Makers : Handmade Rugs
Inspired by ancient cultures from around the world, our beautiful collection of hand-crafted rugs offers up an array of unique designs that will suit any home. We've taken a closer look at the skilled craftsmen and artisans that are behind these designs, outlining their process to show you how these intricate items are created. 
Each of our handcrafted rugs is designed and selected by our team at Cotswold Grey. They are then hand-weaved by our skilled craftsmen in Bhadohi, India, which is the largest hand-knotted carpet weaving industry hub in South Asia. Depending on the size and design, a single rug can take up to a month to create. The countless hours that go into each item is a reflection of the care and consideration that is poured into each design. 
The process starts with spinning the raw wool to create one length of highly durable triple-stranded yarn. The yarn is then dyed in small batches using a process that can be controlled to perfection. It is immersed in a temperature controlled vat and rotated constantly in order to ensure an even finish. After several hours the freshly dyed yarn is then hung out to cure in the sun, before being handed over to the weavers. 
Our weavers work with handlooms to bring the rug designs to life, often weaving in unison on the same rug. For hand knotted rugs, each piece of yarn is knotted by hand around a horizontal metal rod and the cotton warp and weft. Every new knot is a continuation of the previous, and they are then sliced on the rod to create a pile or left looped for added texture. This process can take weeks, and once complete the rugs are washed to give them a smooth, high quality finish. 
Once the rugs have been washed they are laid out in the sunshine to be dried, and are trimmed with scissors until they are the desired pile length. Finishing touches such as a fringe are added, before being quality checked and rolled ready to be transported.  
The result is a unique selection of high quality rugs, ready for our customers to take home. Our collection includes rugs with a variety of colours, textures, patterns and sizes, to ensure that there is something for everyone. Discover our collection online or get in touch with us to find out more.