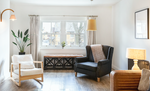 A Summer Makeover for the Home
It seems that Summer is (finally) here! And after a funny old year of sitting indoors, we believe it's the perfect time to change things up and to create a brighter and lighter mood in the home. Whether it's decorating with greenery, adding pops of colour, or having a good declutter, we have 5 quick and easy ideas for refreshing your view for the summer. 
1. Lighten Up
Bring in as much natural lighting as you can. Add bright white bulbs into your fixtures, put away your winter candles, and give the windows a good clean! Mirrors are a brilliant way of adding light and the illusion of space into the home, and changing lamp shades from dark velvets to light linens can instantly lift a room. 
2. Refresh and Restyle
Restyling a room can sound a little intimidating, however all it takes is a few simple updates to change the whole feel of an interior. Switch living room cushions to light colours and textures, dress your bed with fresh white bed linen, and clear horizontal spaces of any unnecessary clutter. Move larger items of furniture around to create a fresh layout, avoiding blocking natural light from entering.
3. Bring Nature Inside 
Colours, patterns and textures that nod to the environment are an effective way of reflecting the changing season within your interior. Summer calls for greenery, so add plenty of indoor plants, fresh flowers, and even faux arrangements to boost the mood. Bring in summer scents through the use of oils and candles. Bright, clean scents such as lemon, orange, and linen work well at this time of year, as well as floral fragrances such as lilac or rose.
 4. Stylish Storage
With some clever decluttering and smart storage solutions it's easy to freshen up your home and enjoy some easy living in the sunshine. Clear out unnecessary items by donating and recycling, tidy and organise wardrobes and storage spaces, and add stylish storage baskets to create an open living space that you are able to relax in.
5. Summer Tableware
It's such a treat to eat outdoors during the summer, and we love to reflect the feeling of the outdoors in the way that we lay a table and through the textures and tones of our tableware. Add colour and light through your choice of table linen, crockery, water jugs, salad servers and sharing bowls. Enjoy the endless sunny days dining with the ones you love.