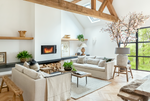 Home Styling for a Successful Sale
Selling your Cotswold home can be an exciting but challenging endeavour. To attract potential buyers and secure a profitable sale, it's essential to make your property stand out in the competitive real estate market. One effective strategy is home staging, which can transform your house into a welcoming and appealing space. Here at Cotswold Grey, we help many Cotswold homeowners to elevate their home for a successful sale. 
Why Home Styling Matters
Home styling is the art of preparing your property for sale by maximising its visual appeal. It helps potential buyers envision themselves living in the space and highlights the property's key features. In the Cotswolds, where charming cottages and picturesque settings are abundant, creating a memorable first impression is crucial.
Home Staging with Cotswold Grey
Here at Cotswold Grey we specialise in interior design, home styling, and we have a unique aesthetic that sits perfectly with the Cotswold aesthetic. We've now completed staging for several stunning Cotswold homes which have lead to almost immediate sales. 
In each of these homes we successfully pulled together a blend of natural tones and textures to compliment the Cotswold surrounds. From the relaxed Snowshill sofas to statement farmhouse tables, every piece was thoughtfully selected to create an appealing aesthetic for potential buyers.
Looking to Sell? 
Are you looking to update your whole home or refresh particular rooms in order to get your home ready for sale? We have the experience and insight needed to help you to bring your space to life.