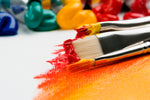 Ways to Add Colour to Your Living Room
Bring vibrancy and colour to your home. Whether you're living in a rental property that you aren't allowed to decorate with paint, or simply haven't got the time, there are still ways to inject colour into your interior. Here are a few ideas to bring your décor to life and add character and charm.
Plants – Real or Fake
Plants instantly and easily add colour and texture and bring an organic focal point to a living space. Choose an evergreen variety for year-round interest, and opt for a flowering plant for an injection of seasonal colour. If houseplants are a new addition to your home and you're not sure how green-fingered you are, we'd recommend choosing varieties which require minimal care, such as the Monstera Deliciosa (Swiss Cheese plant) or a Chlorophytum Comosum (Spider Plant). And if the conditions aren't ideal for a real plant, you may like to opt for the artificial variety which are almost zero-maintenance!
Scatter Cushions
Scatter cushions are a simple and affordable way to add pops of colour. Without making drastic changes to your furniture or walls, you can reinvent your hang-out by adding some of your favourite hues. If your living room has a neutral pallet, choose two or three primary colours to brighten it up and provide variety and contrast. Mix things up by combining block colours and pattern for interest. Scatter cushions also allow you to adapt your interior with ease every season; in spring and summer, add light and vibrant shades, while rich hues like burnt orange, forest green and burgundy will warm up your space in autumn and winter.
Feature Wall
Adding colour to one wall can create a bold and punchy colour statement, without having to redecorate the entire room. It will instantly demand attention as you walk in and can provide a dramatic backdrop for statement pieces.
Lamp and Shade
Colourful lighting can provide the finishing touch and perfect the ambience in a room. Table and floor lamps with complementary shades offer a subtle yet stylish way to bring a pop of colour that will complete a room when coordinated with furniture, accessories and soft furnishings.
Flooring
With its warmth and softness underfoot, a rug is a luxurious addition to your living space. Rugs come in all shapes, sizes, colours, textures and patterns: there's something to suit all interiors and design ideas. Create an impact with a bold and beautiful patchwork rug or choose something with a worldly traveller feel to it, drawing on inspiration from Morocco or Asia.
Artwork
The play of colour is one of the most exciting elements in a work of art. The contrast of light with dark and the way colours are balanced are integral to the composition of the piece. A painting, poster or collection of artworks added to your interior can not only imbue it with life and colour; it can be the inspiration for your entire colour scheme.
Throws
Throws allow you to introduce a pop of colour instantly as well as making your interior warm and cosy. They can be draped over the back of a sofa, placed on a vertical ladder or folded into an open-top storage basket. Be generous with the number you add and select different fabrics and weaves to create contrast through colour, layering and texture.
Curtains
If your current interior theme is relatively neutral, then it's likely that the room can handle a generous injection of colour. Windows can be a very prominent feature of the space, especially if they are dressed in colourful statement curtains or blinds. Whether you are considering a fabric in a block colour or patterned print, it's vital to consider its visual impact when the blind or curtains are drawn to ensure your scheme is balanced – you want to avoid overpowering the room with the window treatments.
Unique Furniture
Make a statement with a single exquisitely crafted and beautiful piece of furniture in a colour matching or complementary to your interior design scheme. Whether it's an imposing sideboard or funky cabinet, a colourful piece of furniture will never go unnoticed.



Are you ready to refresh your interior with vibrant colour? We'd love it if you shared the results with us! Get in touch via our social media channels – we can't wait to hear from you.