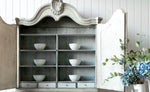 When it comes to Gustavian design, understanding its roots and heritage is fundamental to fully appreciating this beautiful style of furniture. With its subtle complexities and soft colour palettes, it remains in high demand by furniture stores and interior designers, but what many of us don't know is the fascinating history behind Gustavian style…
Gustavian History
Gustavian design originated back in 1772 during the reign of King Gustav III of Sweden, a highly educated and cultured figure who was a patron of the arts. In his early years as a reigning monarch, he attended the court of Louis XVI in Versailles and became deeply influenced by his experiences in French culture and tradition. Neoclassicism was prevalent at the time, which saw an evolution from symmetry and harsh lines into a softer and less rigid adaptation. King Gustav III's return to Sweden marked the debut of what became known as Gustavian style, a distinctive amalgamation of both French and Swedish influence.
Gustavian Style
Despite its strong French ties, Gustavian furniture remains inherently Swedish and deeply rooted in the country's ideals. Due to the length of harsh Swedish winters, the need to bring light into rooms became a priority and was carefully achieved through the use of pastel colour palettes and an abundance of reflective mirrors. Local materials were sourced and woods such as oak, beech and pine became the primary base of the furniture. Distinctive shapes became an important feature of Gustavian style, and often curved frames, fluted legs and scallop detailing were the highlight of the designs. Although many Gustavian pieces are relatively simple, they were designed with purpose and functionality in mind and thus many cabinets, bureaus and console tables emerged. Due to the deep-rooted ties to Swedish style, history and culture, Gustavian design has managed to maintain popularity and although birthed in the late 1700s, is still in high demand today.
Gustavian Style in the Home
While the décor in palaces was grand, Gustavian style soon became widespread throughout Sweden due to its uncomplicated nature and the ease of incorporating it into the everyday home. It has the ability to suit a spacious townhouse or a humble country cottage equally; nor would it look out of place in a chalet or villa. Although there are ornate and decorative details, the silhouettes and paintwork remain simplistic, making it easy to integrate with existing furniture. The pieces have a subtle feminine flair and are designed to accentuate space, not overwhelm it, so often the furniture is fairly mobile and unintrusive. As a result, the pieces can be used in small measures or as an entire decorative scheme.
Here at Cotswold Grey, we have a carefully selected range of Gustavian-inspired bureaus available in three different designs in stunning soft colour schemes to suit any décor. So, now that you know its history, why not transform your home with this beautiful and timeless Swedish style?