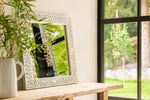 Over the years, mirrors have evolved from being a practical piece that helps you get ready in the morning, to earning status as an effective interior design tool. With so many stunning shapes, styles and sizes to choose from, they are the key to completely transforming a space. Whether you're looking to add a polished touch to your home, make a bold statement or simply amplify light and space, a well-positioned mirror is the answer. Discover our favourite designs in our round-up of stylish mirrors that will make the perfect addition to any home.
The Statement Piece
Mirrors are a great way of creating a focal point within a room, particularly in spaces where there may not be a natural centre, such as a fireplace or mantelpiece. Statement pieces like those in our new Cecily range have the ability to command a room, add drama and inject personality through their oversized proportions and amplified design. Available in varying designs, colour-ways and shapes, these stunning mirrors works just as effectively as a hanging painting. 
The Decorative Mirror
Shape is an important element when selecting the perfect mirror for your space. A curved arch, like that of our Matilda Arch Crittall Mirror, will add a soft, feminine flair and gives the room a delicate, even romantic feel. Elegant and more intricate designs, like our Tara and Farah Inlay mirrors add interest to a room with their ornate features, whilst also maximising light and visually increasing a room's proportions. Not only does they look stunning when hung on a wall but can be displayed in a variety of ways, such as placed on top of a fireplace, sideboard or dressing table for a stylish finish.
The Window Illusion
If your property leaves you longing for more windows, mirrors can be an excellent alternative. Our stylish range of Wooden Window Mirrors are created from antique frames and shutters and feature original metal fittings alongside a gorgeous time-worn patina effect. These designs are on-trend to use in the home, but they also work particularly well in an outdoor setting, adding a rustic and charming French farmhouse feel to your garden space.
The Vintage Antique 
Despite many modern and contemporary designs, mirrors can also be utilised as a way of adding a piece of history to your home. Our Antique Copper mirror comes with its own fascinating story and was once installed in the Willard Asylum in Ovid, New York State, which operated between 1869 and 1995.  This truly rare piece even holds visual cues to its past and features oxidised copper from its lengthy exposure to the damp Lake Seneca air. Adding this sort of piece to your space works just as well as a beautiful historical painting or artwork, except with the bonus of it adding an abundance of light to the space. 
Here at Cotswold Grey, we have an array of stunning and unique mirrors that can completely transform your space. From bold and modern to rustic and traditional, you'll be sure to find something you love. Browse our full range online or come and see our friendly team in Moreton-in-Marsh.