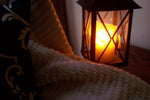 How to Create a Warm and Cosy Interior
In winter, your home should embrace you with warmth and comfort as you enter. Draw the curtains, sink into the sofa and relax in your sanctuary. As the cold wind whistles, the rain pours, and the snow falls, there's nothing better than snuggling into your warm and cosy home.

If you're aspiring to make your living space even more inviting for the winter, then read on for inspiration on how to create a cosy haven.
Soft Lighting
There are many ways you can soften the illumination in your home, from inserting dimmer switches to reduce the glare of bright overhead lights to a more subtle ambience for winding down in the evening. Opt for table lamps to distribute the light softly in specific areas of a room. Even further, fairy lights can be a fantastic way to bring added interest and add to the festive ambience of the season. The gentle tones and delicacy of the lights creates a magical atmosphere.
Candles with Seasonal Aromas
The flickering glow of a candle can create a sense of warmth and is strangely mesmerising. Place arrangements of beautiful candles throughout your living space and enjoy their calming effect when lit. Introduce a scented a candle to fill your home with pleasant fragrances – choose a gorgeous spicy one for Christmas!
Rugs
Adding texture and layers to a room, rugs can bring a touch of warmth to your interior. Cosy and soft underfoot, they are the perfect furnishing accessory when you're looking to create an inviting and relaxing space. The theme of your interior will help you to decide which style works best, whether you're looking to add a traditional Moroccan-print rug or a more contemporary design, bring comfort and style with this essential additional.
Warm Your Colour-Scheme
Soft fabrics and textures in warm colours can help to complete the inviting look you're aiming for. Tones in the warmer half of the colour wheel can transform a room from cold and uninviting into one that radiates warmth. If you want to create a versatile colour scheme that can be altered for the seasons, use calm, neutral tones as your base, then add warm accents such as burgundy, olive green or sandy yellows. If you opt for the stronger oranges and reds, we'd recommend adding them sparingly to prevent them overpowering the room.
Layer Fabrics
Adding the right textures to your interior is key to create a sense of warmth: heavy cotton velvet, faux fur and wool weaves are ideal. These warming textiles are available in various textures, such as woven damask, jacquard or brocades, which lend textural interest. Throws, pillows, cushions and curtains can be easily interchanged depending on the season – it's a quick make-over for your interior which will have you falling in love with it all over again!
Hang Heavy Curtains
To create a more inviting space that will insulate your window from the cold air outside, add heavy full-length drapes. Long curtains are stylish and, hung well above the top edge of your window, can give the illusion of height to your room – as well as creating a cosy haven.

If you've been inspired by our top tips for the coming season, we would love to see any changes you've made or inspired additions to your space. Pap your place and share your snaps with us via our social media channels – we can't wait to see what you've created!