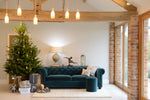 A Cotswold Grey Christmas
It's starting to feel a lot like Christmas in the Cotswolds.  The trees in beautiful Broadway look magical twinkling with thousands of tiny lights, the annual tree is firmly planted in the river at Bourton-on-the-Water and Cheltenham is showing off its swanky new seasonal decorations. 
Inevitably, Christmas 2020 is bound to be different but it seems that across the Cotswolds people have dusted off their seasonal décor early to bring much needed cheer (and if ever there were a year to bring on the magic of Christmas early, it's surely this one). 
After the turbulence & trauma of the pandemic, we are all in need of light and warmth to brighten up the gloom.  Light up your celebrations with strings of lights, which are versatile enough to drape wall-to-wall, to brighten up swags of greenery or highlight a festive mantelpiece.  Share the love with your neighbours.  Hang a sparkly star in your window to make them smile from the street – even if Covid restrictions prevent inviting them in.
Decorative lighting makes a wonderful seasonal gift.  What's not to love about receiving an illuminated heart – or finding a golden globe candle in your stocking? The range of festive candles this year at Cotswold Grey extends to statuesque pillars and dinner candles perfect for the mantel or table centrepiece.  Light one to remember a lost loved one – the absence of family and friends who are sadly no longer with us can feel especially poignant at Christmas…
Social distancing rules make Christmas 2020 challenging, but it needn't stop the family getting stuck in to decorate the tree together.  It's well known that joining in with rituals like this makes a connection between us and reminds us of happier times.  Wrap a beautiful glass bauble or two and give them to the gang to place on your tree for an element of surprise and an early excuse to unwrap a gift.  This year the rules don't apply so as far as the tree goes, more is more…
Warmth is key to Christmas cheer, and a willow lantern will make a wonderful welcome placed in your hallway – or an uplifting gift for a loved one. Stylistas will also love our artichoke candle holders, and the collection of New Zealand sheepskins in different tones to coordinate with your décor.  And for the one who has everything, what could be warmer than our cuddly sheepskin hot water bottle?   
Art is uplifting.  Give a collection of framed encyclopaedic prints for a traditional vibe or choose monochrome plant paintings to create a contemporary look.  Simple, humorous Picasso sketches will look good just about anywhere (and are guaranteed to make the recipient smile – which is the most important thing of all). 
Merry Cotswold Grey Christmas!