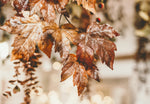 There's a silvery sprinkling of frost on the morning ground, the trees are displaying a fiery kaleidoscope of colours and temperatures are dipping.  Enter Autumn: it's time to channel the newest interior design trends.
The transition from one season to another puts the spotlight firmly on nature; and the prospect of winter on the horizon awakens our nesting instincts. Comfort and warmth are key for styling your interior now thus tone and texture will be important elements of any scheme.  As we spend more time indoors, our living rooms become all-important: natural colours are never out of fashion and knobbly wool rugs in subtle shades provide the perfect base on which to pull a look together.  Sumptuous seating is a must for a cosy haven: choose a leather Kingham or James sofa the colour of autumn leaves, or a conker-brown Blockley with its timeless style and distinctive brass studs.  Drape them with cashmere blankets and faux fur throws for luxury and warmth on chilly evenings.
One way to channel nature is with furniture made from natural materials like wood.  A beautiful vintage teak cabinet or trunk with a rich natural grain lends style and storage for a multitude of items from books to the TV: a scrubbed blond elm table flanked by matching benches brings welcoming informality to a kitchen or dining room.  The life-changes brought by Covid 19 have created new interior trends and accelerated others. The desire to decorate in a way that gives items a second life rather than only single use is one of them and these pieces have eco-credentials: the cabinets are pre-loved and the elm pieces crafted from recycled window frames. 
Domestic interiors are under the spotlight more than ever thanks to the enforced confinement brought by the global pandemic.  Another growing trend is our passion for statement-driven pieces in the home including the kitchen.  A free-standing pantry or dresser makes a stylish display unit for your Broste crockery collection and provides the perfect foil to fitted units, particularly in a contrasting colour or form. 
Travel and our access to different cultures have brought global inspiration and the influence of different cultures is increasingly popular in modern interiors, thus a distinctive Chinese cabinet or chic French chair could give your space the style it lacks. For flooring, there is a renaissance of tribal rugs afoot: think artfully faded Persian styles for modern sophistication or Moroccan Berber-style wool rugs in natural creams and browns for an informal scheme. 
The upside of all this time spent staring at our four walls is that it has enabled us to make considered choices about how to style and what to buy. Another staple material for glamorous autumn texture is velvet.  With its natural softness and warmth, a sumptuous velvet sofa in a deep, moody tone is perfect to curl up in on a cold evening with a book and a glass of red.