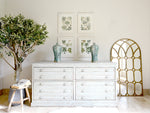 A Spring Makeover in Lockdown Living
Spring is the perfect time to declutter and rearrange – and being in lockdown at home for the foreseeable future offers the perfect opportunity to put your house in order.  
The task can seem daunting when you're staring at your four walls wondering where to start but a good place, particularly if you're sharing it for an extended period with the entire household 24-7, could be your living space.  
It's a multi-functional space for work, leisure and play where every member of the family or household should feel comfortable, and at present it's probably being used to the max.  If you are working from home – either temporarily or permanently – you'll need a work zone.  This doesn't mean a corporate takeover of the living room, just a designated space within it. Steal a small corner or recess big enough for a desk and make it your own. Re-purpose an old table or choose a new design to suit your style.  Many companies including Cotswold Grey are continuing to take orders online and can arrange safe delivery even in these strange and difficult times.  Our stylish mid-century desk on metal legs with its neat proportions is ideal or, if you need a model with extensive storage space as well as elegance, invest in an antique Gustavian bureau which you can close to hide your work away when done.  Both work equally well in a bedroom work zone.
Now is a good time to rethink the look of your living room even if you have to wait to buy some of the elements you need to implement it.  If you want to change your colour scheme, you can plan by ordering paint cards and fabric swatches online.  Walls painted different colours can psychologically divide a room, so you could choose a bold one for the corner with your desk and a more neutral hue for the rest of the space.  
Your makeover could be as simple as changing the layout of the room and getting rid of clutter.  With a full house, space is at a premium, so measure the dimensions of the space and create scaled cardboard cut-outs of each item of furniture and play around with the configuration until you're happy with it.  To declutter, find or create storage for electronics, games and reading matter that tends to pile up and ditch any extraneous items like bulky winter throws on sofas.  Consider changing chunky furniture for pared-down ergonomic alternatives to make it easier to move within the room. 
Spring can herald a desire to lighten and brighten your look and get closer to nature.  In the bedroom, heavy bedcovers can be whisked away and replaced by lighter linens or cottons.  Bring nature indoors and embrace green in all its glory – there's a plethora of cushions featuring birds, animals and plants for sale to give your furniture an easy facelift – and what's not to love about a green cotton velvet sofa…
While you're in your bedroom, take a look at your wardrobe.  If there are clothes inside that you haven't worn for over a year, chuck them out.  Give those in good condition to charity (many local authorities will now collect them so bag them up separately for the dustbin man if you can't deliver to a charity). 
Decluttering is especially important in your kitchen right now. The kitchen table may have to double up as a school desk, laptop station (or platform for board games when you've overdosed on daytime TV), so keep it clear to ensure it's as versatile as possible.  Bring real plants indoors and limit the number of trips to the supermarket by growing your own herbs.  Plants can be bought online as seeds or plants: they look great grouped in decorative ceramic pots and will be happy plonked on a sunny windowsill. Just as important, nurturing plants to produce flowers or flavours could nurture you too.