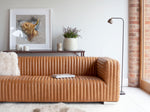 A Modern Country Interior
It's neither kitsch nor twee and there isn't a flounce nor frill to be seen.  Modern Country fuses the best of traditional country interiors with contemporary design for a sleek, timeless, relaxed vibe.  The hallmarks of this style are simplicity, textural contrast and natural materials that nod to craftsmanship and tradition.
Not surprisingly, nature permeates the look, from the interior architecture down to the decorative accents.  Rough timber-beamed ceilings, plastered or exposed brick and stone walls combined with tumbled limestone or distressed wooden boards underfoot characterise the style.  If your pad is lacking the basics, worry not:  there's a myriad of reclaimed and new-but-looks-old materials on the market to give you the look. Modern substitutes abound for old wood scaffold boards and weather-worn decking to use on floors and walls, and you can buy a myriad of terracotta tiles artfully manufactured with flaws as though they were made by hand a century ago.
Modern country is more streamlined than traditional country and without the fussiness. Simplicity and comfort and a sense of the room having evolved gradually over time are key to the style.  Organic textures including metals – zinc, pewter, copper, nickel and gold with an aged or antique finish; textiles such as aniline leather, linen, cotton, hessian (and velvet to lend luxury). Colours are taken from nature and range from pale whites and taupes to teal blue, burnt orange and forest green.  Farrow & Ball, Little Green & The Paint Library have good ranges of heritage paints that will help you source the perfect hue. 
There are a number of distinct ways to interpret modern country.  Classic country style is timeless with elements of luxury and symmetry.  It features impressive but uncomplicated antique pieces that are also useful.  A forever piece like a pastel-painted Gustavian dresser or French armoire provides elegance to a room - and storage space. Add generously proportioned seating – rolled-arm sofas and wing-back armchairs upholstered in substantial modern fabrics: textured linen, finely woven wool or cotton velvet.  Textures have a naturally weathered look, pattern is limited and the furniture and furnishings are set against a predominantly neutral backdrop.
Another interpretation of modern country is an Arts & Crafts Movement inspired scheme with hand-crafted wood furniture at its core.  Simple scrubbed-elm tables and benches are perfect combined with other pieces in wood of the same type and tone, balanced by soft furnishings with rural references and motifs from nature.  Comfort is key, so think sheepskin rugs and cashmere throws and a wood-burning stove. Look for one-off, hand-crafted decorative accessories like ceramic lamps and vases, old or new, to pull the look together.  Cue the cosy cabins at SoHo Farmhouse for inspiration.
One of the most popular interpretations of Modern Country is to give it a vintage industrial vibe.  Hard surfaces in granite, copper, zinc and distressed timber (nail-holes and other scars which allude to its former function are perfect).  Cotswold Grey's Mid-Century Desk ticks all the boxes for this look. Upcycled industrial and utility objects add personality, like our coffee table made of timber with a time-worn patina balanced on old bicycle wheels.  Balance this with comfortable boxy seating:  generous corner sofas and retro armchairs are perfect.
Go global and create the illusion you've travelled the world in your modern country scheme.  Source hand-made pieces in natural materials from far-flung places. An antique carved wood chest or wall mirror created from antique window shutters with the rich patina of layers of paint worn by the elements.  A traditional Moroccan-style wool rug is gorgeous underfoot: the simple Berber diamond patterns on a cream background work beautifully with modern design.  Choose fabrics featuring Ikat, Paisley or Arabesque patterns, mixing the scales if you're using several so that they don't fight. 
 Modern Country works just as well in a modern city apartment as it does in an ancient converted barn; the juxtaposition of time-worn pieces in a swish new interior can not only look stunning but transform bland into beautiful.