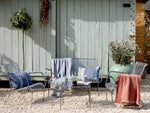 Creating the Perfect Outdoor Space
The evenings are drawing out, there's real heat in the sun and nature is in turbocharged Spring growth enticing us outside to her canvas of colour on a backdrop of verdant green. 
The benefits to our health of being outside are well-documented and its importance is amplified at this time of fear and uncertainty.  So It goes without saying that nature is a key element in creating the perfect outdoor sanctuary.  Plants can be introduced regardless of space: it's simply a matter of finding the best species for your environment and, now that our garden centres have reopened, it's the perfect time to choose.  Once you've worked out the aspect of your space and found plants that will thrive, there's an unlimited choice of containers to put them in. A few judiciously chosen orchids (if its north-facing) or succulents (if south) can transform even the smallest balcony and hanging baskets, pots or terrariums will add texture and form without taking up valuable floor space. 
Approach the design of an outdoor 'room' as you would an indoor one, creating zones for different purposes, taking into consideration the quality of natural light and where the sun falls at different times of the day. A small bistro table and a couple of chairs are perfect for brunch on an east-facing patio bathed in morning light; place a humble bench or daybed against a west-facing fence or wall for an evening tipple watching the sun set.  Choose furniture made from sustainable materials such as hardy timber designed to last. Comfort is key to solace and relaxation: a selection of quirky cushions will style and soften your hard seating. 
Create atmosphere by adding sound: wifi or power points are mandatory for music and a gurgling water feature will attract birds, soothe the soul and mask noise from the neighbours. Bring in a fire bowl to crackle with heat on a cool summer evening.  A rustic iron planter is a versatile choice – and will provide a useful store for firewood come Autumn. Lighting is important if you plan to use your outside space in the evenings: strings of wall lights, strings of hanging lights and strategically placed lanterns or hurricane lamps create a magical vibe in a garden.
Choose a focal point for your space and play with scale: giant pots can look stunning planted with olive trees or brilliantly coloured bougainvillea.  It's important to consider your vertical space: a high wall can frame a cozy corner for dining or relaxation and shield you from the wind. Hang a vintage teak window mirror with weathered patina to create interest and the illusion of space.
For entertaining al fresco a sturdy wood dining table is a great choice –  partner it with benches so there's room for guests or café-style chairs you can stack for storing.  Accessorise your scheme with cushions, sheepskin seat covers and beautiful tableware.  Drape colourful throws over seating: they're great for dinner guests to grab if the temperature drops. And we all know how fickle the British summer can be…