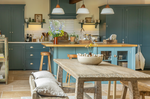 Cotswold Cottage Perfection : Our Latest Project
We are very excited to share our latest interiors project with you. Our team here at Cotswold Grey have been very busy curating and furnishing a truly stunning Cotswold cottage. From the tranquil Linen Snowshills in Flax and Olive to vintage wooden coffee tables and sideboards, neutral floor rugs, cozy linen cushions, and charming wooden table lamps, this cottage exudes warmth and elegance. Join us as we take you on a journey through this beautiful process and get ready to be inspired!
Timeless Linen Snowshills in Flax and Olive:
The Cotswolds are renowned for their picturesque landscapes and traditional charm. To complement the natural beauty of the region, we chose Linen Snowshills in Flax and Olive for the cottage's interiors. The timeless linen fabric adds a touch of sophistication and comfort to the rooms, evoking a sense of tranquility that perfectly matches the surrounding countryside.
Vintage Wooden Coffee Tables and Sideboards:
Nothing speaks of rustic charm quite like vintage wooden furniture. In our quest to create a timeless and inviting atmosphere, we put a lot of time and effort into finding the perfect pieces. The vintage wooden coffee tables and sideboards not only add character but also serve as functional pieces within the space, providing ample storage for the cottage's inhabitants.
Neutral Floor Rugs and Cozy Linen Cushions:
To achieve a harmonious and balanced ambiance, we opted for neutral floor rugs that blend seamlessly with the cottage's wooden flooring. These rugs not only tie the room together but also add a layer of comfort underfoot. Complementing the rugs are cozy linen cushions, inviting guests to sit back, relax, and embrace the relaxing atmosphere.
Charming Wooden Table Lamps:
Every detail counts when curating a home, and the choice of lighting is no exception. To enhance the cottage's rustic appeal, we selected charming wooden table lamps that radiate a warm and soothing glow. These lamps not only illuminate the space but also serve as decorative accents that enhance the overall aesthetic.
Furnishing Showrooms Ready for Sale:
Our passion for interior design extends beyond residential projects. We have thoroughly enjoyed furnishing showrooms, transforming blank spaces into immersive environments that capture the essence of the Cotswold cottage perfection. If you're a developer or showroom owner looking to elevate your property's appeal, we would love to collaborate with you. Get in touch to discuss how we can help bring your vision to life.