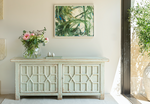 Elevate Your Interior: 10 Investment Pieces for Timeless Style
Investing in high-quality and thoughtfully designed furniture is a surefire way to create an interior that withstands the test of time. These ten key pieces from Cotswold Grey not only enhance the overall aesthetic appeal of your space but also add functionality. By focusing on quality, durability, and designs that align with your personal style, you can elevate your interior effortlessly. Discover ten essential investment pieces that will transform your home and provide long-lasting enjoyment for years to come.
Sofa:
A well-crafted sofa serves as the centerpiece of any living room. Look for comfort, durability, and timeless design. Opt for high-quality upholstery materials like leather or durable fabrics such as linen or velvet. Consider the size and layout of your space to choose between a classic three-seater or a modular sectional that complements your interior style. Our recommendation: The Snowshill Sofa in Flax 
Dining Table:
Hosting memorable gatherings and invest in a sturdy and visually appealing dining table that can withstand daily use and last for years. Choose quality materials like solid wood or marble. Consider the size and shape of your dining area to ensure it accommodates your desired number of guests comfortably. Our recommendation: The Westcote Farmhouse Table 
Sideboard:
A sideboard adds both storage space and a stylish statement to your interior. Opt for a well-crafted sideboard with ample compartments and a design that complements your decor. It can be a versatile addition to your dining room, living area, or hallway, offering functionality and aesthetic appeal. Our recommendation: The Errol Sideboard 
Statement Mirror:
A statement mirror instantly elevates the look of any room, creating an illusion of space and enhancing natural light. Choose a mirror with a unique and visually striking frame that complements your interior style. Whether vintage-inspired or modern, a statement mirror adds a touch of elegance to your home. Our recommendation : The Tara Inlay Mirror

Table Lamps:
Invest in high-quality table lamps that provide functional lighting while serving as decorative accents in your interior. Consider factors such as design, elegance, and ambiance when selecting table lamps. Our recommendation: The Fani Table Lamp Old Green 

Rugs:
Add warmth, comfort, and coherence to your interior, anchoring furniture arrangements. Opt for high-quality rugs made from natural materials like wool or cotton. Consider the size, pattern, and texture that complement your existing furniture and invest in a rug that will stand the test of time. Our recommendation: Riley Cream and Black Handmade Moroccan Rug

Armchair:
Invest in a luxurious and comfortable armchair to create a cozy reading nook or a stylish accent piece in your living room. Choose a design that offers comfort and visual appeal, with high-quality upholstery and sturdy construction. Consider the size and shape that suits your space and reflects your personal style. Our recommendation: The Springhill Armchair

Desk:
Whether for work or creative endeavors, a well-designed desk is a worthwhile investment. Look for a desk with ample workspace, storage options, and ergonomic features. Consider materials and finishes that complement your interior while offering durability. Our recommendation: Mid-Century Desk 

Garden Planter:
Invest in high-quality garden planters that seamlessly blend with your interior decor, adding life and freshness to your space. Choose durable materials like ceramic, concrete, or metal, with proper drainage to support healthy plant growth. Our recommendation: Giant Brown Planter 

Tableware:
Investing in quality tableware adds a touch of sophistication to your meals and enhances your dining experience. Opt for timeless designs made from durable materials like porcelain. Consider investing in a set that includes dinner plates, salad plates, bowls, and complementary glassware for elegant table settings. Our recommendation:  Broste Tableware 
With these carefully chosen pieces, your home is sure to become a reflection of your unique style, offering long-lasting enjoyment for years to come. Elevate your interior and transform your space into a stylish and inviting sanctuary.