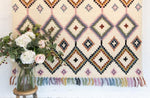 Rugs can define a space, bring character and indulgence, and make your home feel warm and cosy. Selecting the right rug for each room needs careful consideration to allow it to add to and complement your interior, rather than overwhelm the room or compete with other statement pieces. In our latest article, we've discussed a handful of the main deliberations when choosing the perfect rug for your home.
Size
When you're deciding on which size of rug you would like to go for, consider where in the room that it is intended to be placed. Do you want to highlight a particular area? Or are you planning on it being central to your furniture? These questions are essential when deciding on how big, or how small you would like to go. A frequent interior oversight is selecting a rug that is too little for where it is to be placed. As a guide, ideally, the rug needs to be large enough to accommodate your seating area. This will mean, that at very least, the front legs of the seating can be placed on top of the rug. Another top tip to ensure your rug effortlessly complements your interior is to ensure that there is bare floor around all sides of the rug, and avoid it being placed too close to any of the walls.



Suitability
Depending on which room in the house you would like to add a rug, and how much foot traffic that particular area receives, will affect your decision on which type is most suitable for the space. As an example, the entrance hallway is likely to receive the highest amount of foot traffic within the home, and because of this, a low-maintenance, low-pile rug would be more suitable for the space. Typically, they're more robust than those with a high or medium pile, meaning they won't show signs of wear as quickly and they will be easier to keep clean. Medium to high piles often feel more luxurious underfoot, due to increased thickness and a softer touch, these are better suited to areas within your home that have little footfall, or places where you're unlikely to be wearing outdoor footwear.
Maintenance
Your lifestyle is also likely to influence the type of rug you choose. Consider how busy your household is, whether you frequently have guests, or if you have pets or children. Do you have time to dedicate to cleaning any accidental spills or would you need to schedule professional clean throughout the year to ensure it remains in the best condition?
Colour
The colour of the rug is one of the more obvious deciding factors. While you're browsing for the new addition to your room, consider whether you need the rug to make a statement, or to blend amongst your existing interior. Keep in mind your existing colour pallet to ensure the piece effortlessly adds to the space.
Pattern
Decorating with pattern can be a daunting yet rewarding design choice. Finding a balance within your interior will ensure the room feels comfortable and inviting. Depending on how you choose to mix patterns, will influence whether or not you decide to add the extra element of a patterned rug. Are you searching for a patterned rug which immediately grabs your eye's attention as you enter, or would you like something a little more subtle?
Style
Rugs come in a fantastic range of styles which is perfect if you have a particular theme you're hoping to achieve. As interior designers, we're no longer limited to the more traditional and instead, have a wealth of choice! From Moroccan style rugs to Oriental, contemporary, geometric, jute and so much more!
Texture
How a rug looks and feels underfoot are essential aspects to consider when you're deciding upon which rug you would like in your room. An interior needs a mix of textures to create depth and layers within a room, and this includes your rug. Aim to include a contrast to the other textures you already have within the space to create added interest and variety. 
Are rugs an important element to your interior? How have you incorporated these into your design? Share your tips and snaps with us via our social media channels – we'd love to see what you've achieved in your home!