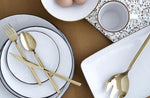 How to Style and Dress Your Dining Table
An area of an interior that is often overlooked is the dining table – both the type of table and the dressing it is adorned with can be used to create a statement within a room. It isn't just special occasions such as birthdays or Christmas that call for decorations, and instead, a beautiful and stylish focal point can be created for year-round interest. In our latest blog, we've looked at ways in which you can style and dress your table, for added splendour to your home interior.
Create Contrast
There's so much choice in tableware and accessories that adding contrast to your setting has never been easier! By thoughtfully mixing a range of styles, colours and patterns, your eye will be rewarded with a feast of beauty. Rustic, chunky plates and bowls can be complemented with elegant and tall glassware. While a vintage dining table with deep grains and signs of wear can be paired with fabrics which are luxurious to the touch to define each place setting.

Top tip: Always consider the existing style, patterns and colours of a room when selecting your dressing to create a cohesive and balanced look.  
Layer
Layering is a fantastic way to present a selection of your favourite dining collections while creating a visual masterpiece on top of your table. By adding varying heights and textures, you'll achieve a contemporary look while bringing depth, interest and definition to each place setting. Layer side plates and bowls on top of dinner plates, then finish this with either a napkin and ring or flower arrangement.
Adapt for Each Season
Each changing season brings a pallet of colours to reflect. As well as this, there are annual celebrations such as Valentine's Day, Easter, Halloween and Christmas, which all lend themselves to having stunningly stylish table decorations to match. Embrace the changing seasons and all that each brings by introducing scatters and accessories which hint at the time of year. Garlands, candles and ornaments can all be added for that sprinkle of special. For an alternative look, opt for fresh fruits, vegetables or herbs considerately placed; lemons, sprigs of rosemary or arrangements of artichoke heads will add a unique yet beautiful finish.
Add a Floral Touch
Flowers effortlessly provide bursts of colour and delightful fragrances, from soft pinks to crisp whites, there is a shade and scent to suit all preferences. Bringing life and vibrancy, an elaborate arrangement can be placed centrally, or you could opt for several smaller and understated bunches across the table's length.
Accessorise
From napkin rings and coasters to decorative trays and place card holders, a little goes a long way when you're dressing your table with accessories. Each of these additions adds a distinctive and personalised appeal to your table setting, as well as bringing elegance and charm.
Illumination
Lighting is used to help shape the atmosphere of the room, particularly when it's a space that is primarily used during the evenings. Add an experiential feel to your dinner parties through illumination. Helping you to set the stage for your meals, there are several options to choose from. A pendant or chandelier is intended to impress while highlighting what's most important in the room. Alternatively, for a more understated look, opt for a scattering of candles for those cosy and romantic evenings around the table.
Fabric
Whether it's the finest linen or textured cloth, fabrics can quickly transform your dining table, they're also very simply and effectively layered. To achieve depth and interest, start with a neutral tablecloth topped with a contrasting table runner, you can then add individual fabric placements, as well as napkins.

Showcase your stunning tableware all year-round while creating a space that holds interest and oozes style, sophistication and individuality. With our top tips, your dining room, and in particular, your table, will look ready for a celebration at all times of the year!
For more interior inspiration, why not take a look at some of our other blogs? 
How to Create a Relaxing Bedroom