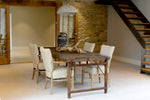 Care Tips for Wooden Furniture
Interior trends come and go, but wooden furniture lasts the test of time and continues to bring a sense of quality and beauty to our living spaces. Our love of wood is evident in almost all homes, and the durable material is used for a multitude of objects and functions. From modern kitchen cupboards, retro bookcases and unique coffee tables, to vintage dining tables and seating – it is as practical as it is pretty.

Whether your wooden furniture has been passed down through your family, or it's a piece you've just acquired, taking care of it will prolong its life and keep it looking its best for many more years to come. If you're looking to maintain your wooden furniture, read on and discover how you can take the best care of it.
Regularly Dust
For most, our homes are kept relatively free from any dirt and dust, but, it requires regular maintenance to keep them this way. To keep your wooden furniture in tip-top condition, we would recommend using a duster, and gentle sweeping over each of the surfaces, to remove any dust. Avoid using any chemical-laden cleaning products, as these are known, in some cases, to do more harm than good. Keep it simple with a soft cloth and some elbow grease (an old T-shirt is perfect!).
Apply Beeswax
Beautiful wood furniture looks stunning finished simply with a coating of oil or wax. An oiled finish will need re-application twice a year with a natural product such as linseed oil. Beeswax polish can be applied to natural or painted furniture two or three times a year and buffed to produce a subtle sheen. Use microfibre or soft cotton cloths to prevent scratching. Both oil and wax finishes enhance the grain and build up a gorgeously rich patina over time.
Clean Up Spills
If your furniture is used as a surface for drinks or dining, then it's essential to clean up any spills as soon as they occur. Water and foods can quickly stain wood, causing unsightly marks which can, when left, be very difficult to shift.
Image credit: https://coffeegeek.tv/best-coffee-drinks-at-dutch-bros/  
Protection
If your wooden furniture is regularly used for food and drink, protecting it using pads, cloth or coasters, should help to protect the wood from anything that accidentally gets spilt. Spillage from liquids and food can cause unsightly marks which are extremely difficult to shift so mop up and wipe your surface dry without delay.
Avoid Dragging Objects Across the Surface
Dings, scuffs and scratches are tell-tale signs of the age of a piece of wooden furniture. This type of damage often occurs on the top surface of an item, and happen when things are placed on top of, or it is used as an activity station. Avoid placing things that are too heavy on the surface, or dragging items across it, to reduce the likelihood of damage.
Take Care When Moving
Moving to a new house? Rearranging your room? Keep your wooden furniture in the best condition by ensuring you can easily lift and move the item where you need to. Call on your neighbours or friends to give you a helping hand, so that you reduce the likelihood of the furniture being dropped or slipping and being damaged when you move it.
Avoid Direct Sunlight
Wooden furniture can quickly become damaged when left in direct sunlight. Exposure to UV rays causes discolouration, and in the worst case, cracking and splitting. As much as we like to bask in the natural light by a bright and sunny window, it's best to keep your wooden furniture away from it to ensure it maintains its excellent condition for many more years to come.

If you have a wooden floor that's exposed to direct sunlight, rearrange rugs and furniture periodically to prevent some areas from bleaching. Ditto ornaments and objects: change the arrangement on your bookcase or coffee table to avoid bleaching and a patchy surface.
Consider Changes in Temperature
Even thoroughly seasoned wood can change shape and warp when there are changes in temperature. As the temperature increases, the wood can expand, and as it decreases, the wood contracts. As a natural material, it is common to expect these slight changes, but, in the most extreme cases, it can take away from the primary function of the piece of furniture. For example, warped cupboard doors can mean they won't close, or a twisted surface can make it difficult to place a drink or ornament on top of it.

Do you have any care tips for wooden furniture that we've missed from our list? We'd love to hear how you maintain your prized pieces of furniture! Get in touch with us with your top tips via our social media channels – the team here at Cotswold Grey always love to hear from you.