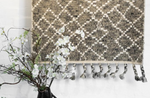 Guide to Displaying and Hanging Textiles
When designing the interior of your home, fabric is most definitely your friend. It's versatile, tactile and comes in a wonderful array of colours, patterns and textures – allowing you to instantly inject a sense of personality to a space.
A Unique Design Element that Brings Interest and Passion to Your Home
When we first think of textiles, what comes to mind is usually scatter cushions, upholstered chairs, curtains or throws, but there's more to this design element than what is often first considered! Displaying and hanging textiles can be a unique alternative that brings interest to your space.

Whether it's a vintage linen that you've fallen in love with, or you can't stop thinking about a Moroccan style rug that you spotted when you were last browsing in town; we've looked at why you should consider hanging these beautiful textiles in your home, and ways you can achieve the interior you desire.
Why Hang Wall Textiles in Your Home?
Similarly to art, textile wall hangings provide a unique point of interest within a room. There's an array of benefits to incorporating this original feature in your home, we've looked at just a few of them below!
Add Texture to the Space
Each unique in the material, form and medium used, a hung textile can be a quick and simple way to add an additional layer of texture to your home. Adding texture creates visual impact within the space, and the more diverse yet cohesive the materials are, the better.
Why is Texture Important?
A room can seem unfinished, or very often, flat, without the use of tactile textures within the space. Layering various materials and colours gives you something you can touch and feel, while also creating an exciting display.
An Injection of Colour
Choosing a colour scheme can be one of the most daunting aspects of designing a room. The seemingly endless options and combinations can result in our heads being in a bit of a spin!
A Hung Textile Can be Applied, Changed or Removed with Ease
A hung textile is a relatively easy way to inject colour into your interior. It's also considered a 'safe option', as it can be quickly changed or removed, transforming the interior simply by applying it or removing it from the wall. Compare this to redecorating an entire room, and it's a win-win! You get a stunning feature and splash of colour, without the effort and expense of redecorating.
Create Cohesion
When you enter a room where each element of the design feels cohesive and effortless, the space instantly puts you at ease and allows you to relax.
It's important to picture and plan how a room will look when you've finished decorating and furnishing, and truly inspirational spaces often demonstrate well-considered cohesion.
A Hung Textile Can Provide an Anchor for Your Interior Choices
A hung textile can be used to draw each element of your design together. Consider it an anchor to your chosen colour pallet and furnishings.
Make a House a Home
It can be a challenge achieving the homely and inviting vibe you're striving for. A sparse room, whether you've only recently moved in or you're in the process of redecorating, can be an unappealing place to be.
Bring a Sense of Warmth
Hung textiles instantly bring a sense of warmth. No matter the colour of the walls, or furniture chosen, the organic material and in some cases, rustic style provides a soft and cosy element to your design.
How to Mount or Hang a Textile?
So, you've decided that a wall textile could be exactly what your interior needs! There are several methods you can use to apply the piece to the wall; here are some of the basics:
Method 1: Tack to the Wall
This method should be used with caution, as it can result in holes in the piece. Save it for light textiles, and those with a larger weave, so that the tack is less noticeable and unlikely to cause damage.

It's simple, in that you attach the textile to the wall with a row of tacks, these could be nails or pushpins.
Method 2: Attach to Wood
Choose which end of the textile you would like to feature nearer the ceiling, and which end will be at the floor. Once you've decided, set to work on trapping the ceiling end of the fabric between two pieces of wood. This will set the hanging away from the wall slightly, as it's the wood that is attached to the wall rather than the textile.
Method 3: Velcro
This is a fantastic option if you don't want any holes in the wall or textile. Apply the Velcro to the hanging and the wall and sit back and admire the new addition!
Method 4: Frame it
If the textile you have is thin, this can be a great option. Turning a textile into a piece of art! Using either a fabric glue or a table gun, mount the textile onto the picture frame and apply to the wall.
Method 5: Hang from a Pole
For larger or weighted textiles, create a channel of fabric on the back of the piece which will accommodate a pole. Feed the pole through and hang this to the wall. It's a secure finish and keeps the piece flat to the wall.

We love seeing our readers' room transformations! If you've recently purchased a textile and are preparing to hang it in your home, share your interior snaps with us via our social media channels.