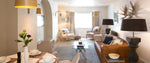 A Guide to Living Room Lighting
A living room is one of the most important locations in the home. Your living room should be a welcome escape from the outside world, a social space where we can catch up with those who mean the most of us in a calm environment.
The living room, unlike many others in the home, needs to be versatile. Throughout a week, it needs to be a place to unwind and also somewhere with energy to excite guests. It also needs to be functional, allowing people to read, watch TV or listen to the radio in perfect comfort. To achieve such versatility, creative living room design is required.
The Importance of Lighting in Interior Design
Of course, a lot of different ingredients go into creating the ideal living room space, including furnishings, colours and various other accessories. However, one of the most important and frequently undervalued aspects is lighting.
Similar to colours, the right lighting can completely transform the feel of a room's interior. There are almost unlimited choices, from soft overhead lighting to sharper task lighting and more statement wall options. Different bulbs and shades and even natural light can further transform the ambience created.
In this guide, we look at some of the most popular living room lighting options and how you can create the perfect setting in your unique space.
Roof Lighting Ideas
The traditional option for living room lighting, using overhead fixtures is often the best way of creating an even dispersion of light throughout a large space. Especially useful in living rooms that don't receive much natural light, a bright roof lighting option will bring more energy and encourage social activity.
Statement Pieces
Roof lighting is also a great way to introduce a statement piece into your living room. If you have a high roof, then you have ample room to add a large fixture such as a chandelier or layered hanging lights that bring a wow factor into the room.
Built-In
Another option that is becoming popular in luxury homes is ambient lighting built into recesses in the ceiling, often around the outskirts or architectural details such as a coffered ceiling. This is an excellent option for smaller living spaces, providing ample lighting for the room but in a soft manner that promotes calm and comfort.
Built-in lights are also a great way of showcasing the architectural beauty of a room. They can highlight particular details or leave the roof bare, creating a much more open feel to the space.
Wall Lighting Ideas
Wall lighting has fallen slightly out of fashion over the last few years, but in reality, there are so many things you can do with it that it's still a great choice.
Wall lighting is an excellent way of bringing eyes across a room, highlighting distant walls and fixtures surrounding them. However, when cleverly executed wall lighting can also provide ample light across a wide space.
Traditional and Modern Options
Often, wall lighting is associated with more traditional living rooms, but there are many different ways it can be incorporated.
For a retro space, large, eye-catching wall lights that illuminate the area can complement the room's style. However, a modern aesthetic can also benefit from more minimalist wall lights that bring your guests' focus onto statement fixtures in that area.
Lamps for the Living Room
Lamps have always been a part of lighting schemes across the home, but particularly in the living room. Lamps are the most common example of task lighting, allowing people to read or do other things without illuminating the whole space. Lamps are also a great way to enhance light already in the room, be it from another fixture or natural light.
Table and Floor Lamps
As with all lighting, there are many options when it comes to lamps. Table lamps remain a hugely popular living room option, adding a touch of style and functionality to any interior.
For something with a bit more impact, a large floor lamp that arcs out over the sofa or chairs can be a great statement piece for a modern interior.
The Perfect Combination of Lighting Styles
Living rooms are complex spaces, with many furnishings and a variety of roles to perform. Therefore, the perfect lighting design is likely to include multiple light sources, creating a varied space but also joining into the style of the room.
If using a statement roof fixture, you may want to include some smaller lamps that can be used as task lighting. A vintage style might benefit from bright wall lights, while floor lamps can be used to highlight furnishings like a retro sofa or rug patchwork.
Promoting Natural Light in the Living Room
Of course, when designing any living room lighting plan, you should also acknowledge the natural light that the room receives already.
Outdoor light can really help when creating a relaxed and positive space. If your living room is blessed with ample natural light, design your lighting with this in mind, to complement it during the day but also replace it during the evening.
We hope this guide will inspire you to transform your living room! Such an essential space in the home deserves special care and attention, and the right lighting can bring new life into the room.
If you have a statement lighting setup in your home, why not share it with us on social media? We love to see your wonderful spaces! For more inspiration, discover our blog on ways to decorate a large interior wall.