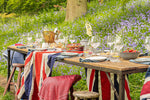 How to Create the Perfect Jubilee Tablescape
As we prepare to celebrate the Queen's 70 years on the throne, there's no better time to gather together over a quintessentially British tea party! We love creating tablescapes here at Cotswold Grey, so we couldn't be more excited to have the opportunity to create a Jubilee themed party. 
Tablescaping is a great way to transform ordinary entertaining into a special occasion, leaving your guests with smiles on their faces and memories to treasure. But, most importantly, the art of tablescaping should be fun!
Whether you are hosting a small family get-together or a whole host of neighbours, we've put together this guide to creating the perfect celebratory Jubilee tablescape.
Set the Scene with Colour
Whether you choose to champion the traditional red, white and blue of the Union Jack, or the celebratory purple and white of the Jubilee, we think settling on a colour scheme that suits your style is one of the most important choices to decide upon. We chose the red, white and blues for our tablescape, contrasting our Nordic Sand tableware with our Nordic Sea collection.
Once you have chosen your colours, it's time to get creative! A bowl of fresh fruit is a wonderfully natural way of adding a pop of colour to your tablescape. If you choose the more traditional red, white and blue, why not try a mix of strawberries, raspberries and blueberries? Or, if you decide to go with the regal purples, fresh lemons piled high in a bowl will add brightness to the darker tones of the purple. They'll also be on hand ready to be sliced and popped into your glasses, adding sophistication and a hint of summer to even the simplest of drinks!
Tantalise with Texture
Take inspiration from the mix-and-match style of a traditional street party and layer up different textures to create a wonderfully rustic atmosphere. Layer lovely linens with natural materials like wood and stoneware to create a rustic yet contemporary scheme. Fresh flowers and luxuriously soft ribbons also add texture, softening the more rigid lines of tabletops and tableware with their delicate structures. We love the contrast of our Iron Folding Table With Wooden Top and Rustic Round Top Stools with our Iron Foldaway Chairs.
Consider Scent
Often overlooked, the right scent can make your tablescape that extra little bit more special. Although it's important not to overpower your guests or introduce a scent which clashes with the food, a subtle scent goes a long way in creating a memorable table. We've sliced fresh lemons into our glassware for a subtle summery scent, but we also recommend adding fresh herbs to your tabletop, either tucked into each napkin or as little posies in bud vases placed along the centre. Alternatively, if you choose to host your party in the evening, why not light a selection of candles along the tabletop.
Create the Perfect Centrepiece
The perfect centrepiece might seem a little daunting at first, but we think even the simplest of centrepieces can be beautiful! For a simple and effortless display, fill an array of vases with your favourite seasonal flowers and scatter down the length of the tabletop. Try using flowers and vases of varied heights to add interest to your display, but make sure you can still see your guests on the other side of the table! Or, for a grander gesture to match the royal occasion, why not use a show-stopping cake, dressed in royal icing and the beautiful colours of your tablescape. Your guests will be delighted when they can finally tuck into the beautiful centrepiece at the end of the meal!
Drinks and food a-plenty!
It's not a royal celebration without good food and fizz! Pile beautiful bowls high with scones and lashings of cream and strawberry jam for the ultimate British tea party. We also recommend popping a champagne bucket on the table to keep your fizz the perfect temperature. We stock a whole host of champagne buckets, available in both brass and silver to suit every regal colour scheme. And don't forget the tea! A true British past time, no Jubilee celebration is complete without a pot of tea and elegant tea cups.