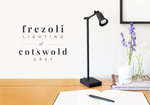 Frezoli Lighting : A New Collection
We are proud to present our stunning Frezoli lighting collection, carefully curated by our team at Cotswold Grey to offer a unique yet timeless aesthetic to the modern interior. Inspired by clean lines and industrial features, we wanted to create a collection that would be just at home in a country cottage as it would in a modern townhouse. A beautiful balance of timeless design and quality craftsmanship, our new Frezoli collection will add a fresh and modern look to your interiors, no matter the style.
With the arrival of our newest additions, we'd like to share our passion for Frezoli with you. We are confident you'll love this collection as much as we do.
Quality Craftsmanship
As with all our pieces, we pride ourselves on sourcing expertly crafted products of the highest quality. Frezoli Lighting is a Dutch family-run company with more than 30 years of knowledge and experience. Each lamp has been designed and produced manually and is extensively tested before it leaves the factory, meaning you can rest assured that your new lighting addition has been skilfully made with love.
Statement Pieces
We are firm believers that lighting should not be underestimated. With the right piece, you can easily inject a pop of character into any space, even before the flick of a switch. For a bold yet contemporary option, take a look at our Hamo Vase Lamp. Or, if your interior already features a vibrant colour scheme, opt for more neutral materials, like our Vetroso Floor Lamp with a smoke glass bulb. 
Vetroso Floor Lamp - Smoke Glass
Timeless Designs
Featuring clean edges and smooth curves, these pieces are a great option for those whose style is constantly evolving due to their ability to tie into any interior style. Whether nestled in a cosy corner beside a bookshelf or adding atmosphere to a dinner with friends, each piece complements both rustic and fresh aesthetics and is sure to add a stylish twist to any space. Our Frezoli collection also features a range of bespoke shades. Choose from a variety of shapes, colours and sizes to create a warm, atmospheric look unique to your living space.
Mazz Table Lamp - Brown Patina
Layer up your lighting
Why have only one lamp when you can have a wonderful array of complementing styles? Our new collection features a whole host of different styles and sizes to suit every interior space. Layer up a selection of different table lamps to create cosy corners or, if your interior features a collection of eclectic pieces, create a sense of cohesion and match your floor lamp to your desk lamp.
Our new collection
Whether you are looking to elevate your desk or light up your kitchen, our new collection offers a lighting style for every interior space. Browse our range of free-standing floor lamps, elegant desk lamps and stylish shades. We're confident you will find a piece you love.
Shop the full collection here.