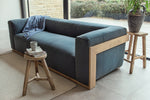 Introducing Our New Collection
We are proud to present our stunning new collection of sofas and armchairs, carefully curated by our team at Cotswold Grey to offer a unique aesthetic for the modern home. The collection offers a contemporary twist on our bestsellers, with a particular focus on detail, texture and visual distinction. We have included beautiful washed linens, warm velvets and hand-crafted Italian leather within this curation, as always ensuring that the final product has a quality that is second to none. 
We'd like to introduce you to some of our favourites, and we're confident that you are going to love them as much as we do.


Yubberton Nubuck Leather Sofa
The Yubberton Sofa and matching Armchair have quickly become two of our most loved pieces from the new collection. Based on our bestselling 'James' design, the addition of the hardwood frame adds a beautiful twist that boasts both quality and style. The chairs are upholstered in a soft, high quality Nubuck leather to create a sturdy and highly durable piece of furniture whilst maintaining a natural feel. This is beautifully complemented by the soothing hues of the leather offered in azure blue or outback tan. An interesting fact:  'Yubberton' is the locals' name for 'Ebrington.'
The Elara Sofa
The Cotswold Grey take on a traditional Chesterfield style, the Elara lends grandeur and charm to any home. Constructed to the highest standards with a hardwood frame, this timeless design delivers comfort and style. To complement our bestselling range of velvet designs we have extended the selection to include pieces upholstered in a cool washed denim and grey slate linen. Finished off with beautiful covered buttons and traditional brushed metal studs, this piece is both versatile and timeless. 
The Broadwell Sofa
The Broadwell Sofa has a classic style that will add a sense of sophistication to any home. Expertly upholstered in a sumptuous cotton-based velvet, this piece is comfortable, durable, and incredibly versatile. Available in gold, petrol blue and shades of green, we have a rich spectrum of colours to suit your individual style.

Our new collection is a reflection of our aspiration to constantly adapt and evolve our most-loved designs. Each piece has been carefully considered with our client in mind, and we hope that you enjoy viewing the new range in more detail.  Head to our online store to see more, or if you'd like to hear more from one of our interiors experts then give us a call on +44 (0) 1608 670 600 or email us at hello@cotswoldgrey.com.