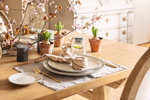 Our Guide to Creating the Perfect Easter Tablescape
Let's make this Easter one to remember. We're making ours extra special by getting creative and embracing the art of 'tablescaping'. We've asked our in-house interior designer, Natalie, for her top tips to bring your Easter table to life and to create a stunning decorative setting that will delight your guests. 
Texture 
Texture is so important when it comes to creating a multidimensional tablescape, and we believe that when it comes to textures, more is more! Natalie suggests layering. Start with fabrics and napkins that will complement the natural finish of your tabletop. Add tableware, glassware and decorative pieces, and a final flourish of flowers. This Easter we're loving the contrasting textures of dappled quail eggs, linen napkins, handmade Nordic stoneware, flickering candles, rustic potted bulbs, and soft pink blossom taken straight from the garden.
Colour Scheme
Colour schemes should reflect the season, and Easter veers towards pastels and refreshingly light spring tones. Once you've chosen a colour scheme, begin to build around it to create continuity in your overall design. We love looking to nature for inspiration, which is reflected in our tablescape full of greenery, pink blossom and natural hues. 
Nature's Bounty 
Bring the outdoors inside. Hand-picked blooms can add a soft, fresh feel to a tablescape, reflecting the season and pulling the overall aesthetic together. No flowers? Fruit can be a brilliant alternative for injecting colour and texture into your display. Arrange bowls of limes, lemons or oranges to add freshness to your design. To create our spring look, we've used branches of blossom, potted bulbs and slices of lime, alongside real quail and duck eggs.
Have Fun! 
Creating a visually elaborate, Instagram worthy, beautifully styled spread is incredibly gratifying and provides a real creative outlet. Add an element of playfulness with our napkin bunny-ear place settings (instructions below). Above all, enjoy it, be brave and play around with your ideas. Sometimes the most unexpected combinations are the best!

We hope you've enjoyed our top tips for creating the perfect tablescape this Easter. We'd love to see your creations so please share with us on our Instagram page! 
Creating your bunny place setting:
Fold your napkin diagonally to create a triangle. 
Roll the napkin up starting from the point, until you have a length of napkin 2 inches thick. 
Take an egg (white or blue looks great), place it in the centre of the napkin length. 
Pull the two sides of the napkin up around the egg to hold it in place.
Tie a ribbon (or string) around the napkin at the top of the egg to create your bunny ears. 
Voila - so simple and effective!