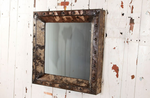 The Best Places to Hang a Mirror in the Home
They are as much a design feature as they are a functional piece of furniture; a mirror is a must-have in the home. Whether you're checking your outfit as you leave the house or are looking for ways to brighten a dark room, this interior essential is here to stay.
As Practical as Beautiful
As practical as they are beautiful, deciding where in your home, or a particular room, they would work best can be a little daunting. To help you avoid the effort of trial and error, we've highlighted some of the key locations in the home where mirrors are most suited, as well as some more unusual uses and placements for them.
Entrance Hallway
The entrance hallway often sets the feel for your home; first impressions really do count here! It's the first room you enter, and as such, it needs to make an impact while giving a good insight into what to expect from the rest of the interior.
Be Bold
Be bold in your choice for the hallway, but also consider the practicality of having a mirror in this space. While being the first room you enter when coming home, it's also the last room you're in before you leave.
Any last-minute checks of your hair or outfit will happen here, and as such, you'll need to place the mirror somewhere you can achieve an uninterrupted view of yourself.
Bathrooms
Whether it is the downstairs loo, your en-suite or the family bathroom, a mirror is essential. The most obvious choice is one hung above the sink as this serves as the most practical place. We'd recommend opting for one of a generous size and fixing it directly to the wall.
Give the Illusion of Space
Bathrooms are often one of the smallest rooms in the house. To make it feel larger, branch out from the norm and include more than one mirror if the room can accommodate it.
A mirror could be placed on the back of the door, incorporated into shelving or above the bathtub.
Home Office
In an ideal world, our home offices would all boast an uninterrupted window view. However, this isn't always achievable, and despite our best efforts, desks can often end up facing a wall or being placed in the corner of a room.
Understandably, home offices don't always take priority, especially if they come at a sacrifice to living space.
Improve Your Working Environment
Although the thought of being able to see yourself throughout the working day might not be something that appeals, a mirror hung above your desk can do wonders at making your office feel open, resulting in a more pleasant working environment.
Dining Room
Searching for a quick and easy way to add grandeur to your dining area? Mirrors could be the answer! If the room accommodates it, placing a mirror at either end, with a vintage dining table central to these, can bring an immediate sense of opulence to the space.
To Dress Your Table
A unique way to bring mirrors into your dining room is to place them on top of your table. Once you've chosen where they will sit, decorate them with your most beautiful table dressings, along with some flickering candles to create a unique and romantic centrepiece for your evenings spent entertaining.
Over Your Fireplace
A very traditional mirror placement is hanging above the fireplace. It is a go-to for many interior designers, and the choice continues to add elegance and interest to a room. A fireplace naturally demands your eye's attention when you enter a room, and a mirror can enhance and complement this feature. It helps to define the space and accessorise the mantel.
In the Garden
Add a sense of depth and magic to your outdoor space with the help of a mirror. Strategically place them so that they draw attention to particular areas of the garden that you're proud of or pleased with.
For example, if you have one area which in the summer months comes to life with blooming flowers, you can bounce this image around the space multiple times by carefully placing mirrors.
Opposite a Window
Mirrors help to bounce natural light around a room, and when they're placed opposite a window, they can also help to bring the outdoors in. If the room faces a beautiful garden or an architectural feature, extend its impact by crafting reflections of it within the room.
A Dark Area
There is usually one wall within a room that doesn't receive as much natural light as the others. Help bring illumination to your space by adding mirrors. As the light enters the room, a strategically-placed mirror can help to distribute the natural light throughout the space. Consider where the sun enters during the day and where you would most appreciate the illumination.
Do you have any unique or alternative places for hanging a mirror? We always love to hear and share interior design inspiration; get in touch with us via our social media channels – send us a message or inbox us with some of your snaps!