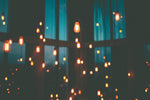 Ways to Brighten a Dark Room
If you have a room in your home that lacks natural light, there are several interior design tips and tricks which can be used to help enhance the space. To make the most of what you've got and avoid large renovation projects, you can rely on the following steps to help bring illumination to any dark room. From opting for furniture made with lighter wood, adding metallic surfaces to hanging mirrors and incorporating area rugs, these simple changes will transform the space, ensuring it's inviting, comfortable and an enjoyable place to be.
Experiment with High Gloss
A high-gloss paint, should, rightly so, be applied with care. It's often considered to be a bold interior choice when used excessively but, when executed well, this simple design trick can bring a sense of sophistication and opulence to a room. The very nature of a glossy paint means that it reflects existing light while bringing a welcome sheen to the areas it is applied to. As well as enhancing the feeling of light within a room, it provides an additional layer of texture to your home's interior.
Consider Furniture in Light Colours
When a room is lacking in natural light, the furnishing can play a significant role in how the space feels. Opting for pale wood, or items which are painted in lighter colours can help to introduce that much-needed brightness.
Use Area Rugs
A colourful area rug will not only help to create a sense of definition within a room, but it can also be an easy and effective way to add personality and interest to what is likely a difficult space to style. They can also be a useful tool for breaking up an existing dark floor. A rug in a lighter tone will off-set an overpowering flooring, helping to create a brighter and more enjoyable space to be in. With a wealth of choice, ranging from Moroccan print rugs, patchwork and Oriental, the stylistic choices available have uniqueness and individuality, and are the perfect addition for your home's interior!
Hang Mirrors
Reflective surfaces, and in particular, mirrors, are a go-to for helping to improve the sense of light in a room. If you can, choose to hang your largest mirror on the wall opposite to the biggest window. This can help to bounce the light around the space, while giving the feeling of bringing the outdoors in.
Add Metallics or Shiny Surfaces
Similarly to mirrors, metallic or shiny surfaces help to distribute any existing light, giving the sense that the space is much brighter than it is. As well as helping to disperse light, adding shimmering accessories in sumptuous golds and silvers, can add a luxurious element to your home.
Thoughtfully Place Lighting
In a dark room, carefully selecting which areas of the space would most benefit from a lighting fixture will ensure the room works the best it can for you. Consider the type of activities you will be doing while you're there. Will you be reading and require a side table lamp? Are you planning on writing or completing crafts and need a more direct source of light, such as a pendant or spotlight? Depending on the size of the space, you may wish to add several lighting options so that the room can work for a wider variety of tasks.
Light Colour Schemes
As a general rule, either neutral or white colour pallets give the feeling of a bright and airy space. Lighter colours, such as white or cream, reflect light more effectively that those that are darker.
Do you have a dark room that you want to bring a sense of illumination to? If you're yet to start your interior make-over, take some before and after pictures and share the transformation of your home with us via our social media channels; we'd love to see your creations!
For more interior inspiration, take a look at our recent blogs:
Guide to Choosing a Rug
Tips for Arranging Furniture in a Small Space