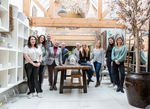 Reasons to shop small this Christmas

As an independent retailer, we are incredibly grateful for the ongoing support of all our lovely customers, who have become an extension of our Cotswold Grey family. Supporting other local businesses is also a passion of ours and all around the country you'll find an abundance of small-but-mighty brands to get behind. With Christmas well and truly upon us, we thought it was important to tell you why it's more important than ever to shop small this festive season!
1. Make a difference
No matter what or how much you order, we guarantee your purchase will make a difference. During the pandemic, we've become more aware than ever that for many, a business is more than just a business, it's somebody's passion and most importantly their livelihood. So whether you're simply buying a coffee from your local independent cafe or a festive greeting card from a small high street shop, we know from first hand experience that they will be tremendously grateful!
2. Keep the high street thriving

The pandemic has meant that every business, big or small, has been forced to adapt. Independent retailers in particular have faced huge challenges over the last couple of years, which is why it's more important than ever to show your support. Not only will you be contributing to your local community, you'll be paving the way for more creative entrepreneurs to join and help revitalise the high street. 
3. Unique Pieces
By shopping small, you can have peace of mind knowing that your purchases are unique and are often one-of-a-kind. With thoughtfully curated collections and often a small library of products, independent shops are the perfect place to do this year's Christmas shopping and avoid any "I bought you the same thing" moments! 
4. Ethically made
A focus on sustainability and the environment is often at the very forefront of a small and flourishing business. Most use eco-friendly packaging, source items from ethical suppliers and place value on quality rather than quantity, so you can shop knowing that you're doing your bit to be green and to help the environment.
5. Give something back

Supporting your local small businesses is a great way to connect with your community and to give something back. In every town, you can find independent shops to support, offering everything from handmade gifts to delicious food made with local produce. Search online for local businesses in your area, head to a nearby Christmas Fair or walk into your local town to discover something new. 
6. Tell them what you think!
Another wonderful thing about small businesses is how easy it is to get in contact with them. With no large call centres or long on-hold waits, you can simply pop in-store or drop them a message on social media and get chatting to them about their products, ask any questions you have and offer any feedback. Each and every comment matters to us small businesses, so don't forget to let us know what you think!
Thank you to all of our wonderful customers, old and new, who have supported us over the years. We wish you all a very Merry Christmas and we look forward to seeing you again in 2022!