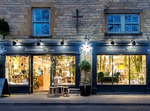 Q&A with our founder Simon Jeffrey
This week, we sit down with our founder Simon Jeffrey and ask him everything Cotswold Grey. From the history of our beautiful shop to the story behind the unique pieces that we stock, he gives us an insight into all aspects of our growing business.
How did Cotswold Grey get started? 
I've always had a passion for collecting interesting furniture and homeware, and I was exploring the idea of opening an Interiors store in Marylebone, London. I had grown up in the old Ironmongers shop on Moreton-in-Marsh High Street, and when my father passed away in 2011 my mother was looking to sell the property. It's such a beautiful, large space and had the potential to become something amazing, so I decided to buy it - and as a result Cotswold Grey ended up being a Cotswold-based store!
Why did you choose Moreton-in-Marsh to open your flagship store?
I grew up in Moreton-in-Marsh so I have a strong emotional attachment to the area. The Cotswolds as a whole is a stunning part of the world, so when the opportunity to purchase the building came along, I knew it was the perfect place to begin the Cotswold Grey journey. 
Is the business family run and owned?
The business is family owned and run by myself. My children have all worked here at various points but they are currently pursuing their own careers in London. I've assembled a wonderful team around me here at Cotswold Grey and as a result it very much feels like a family-run business.
Tell me about your Interior Design service?
Offering an interior design service seemed like a natural next step for us at Cotswold Grey. The team and I share a love of interiors and a passion for design, so we began offering our expertise to a wide range of clients in the Cotswolds and beyond. We have a friendly, collaborative, and hands-on approach to each project, and our recent schemes include the sensational Silk Mill House in the centre of Blockley, as well as a number of cosy Cotswold cottages and local Hotels / Restaurants. This is a side of the business that we continue to grow, and we will soon be expanding our Interior Design team solely dedicated to adding a Cotswold Grey touch to any home.
Tell me more about the Internet side of your business?
With the world shifting into the digital space, we have naturally placed more of an emphasis on growing our online store and widening our reach. Moreton-in-Marsh is a quiet town and while it is a fantastic location for our physical shop and showroom, our online store hopes to bring the same individual style to those a little further afield. 
Tell me about any awards you've won?
We are proud to have won a couple of awards in the past for ''Best Dressed Stand'' at both Daylesford Fair and Cheltenham Races, two of the many fairs that we partake in. The team and I love running the stands and meeting customers, old and new, while sharing our latest pieces with them.
Are you an ethical trader?
Yes we are an ethical business. We have a strong working relationship with several suppliers all over the world and the majority of items we stock through them are crafted from recycled and reclaimed wood. We also make a conscious effort to use recyclable or compostable bags and packaging in our store.
What do you think is your point of difference?
Instead of solely buying from wholesalers within the UK, we have chosen to have a wide and far-reaching selection of suppliers from all over the world. Our love of unique pieces means our store is full of one-of-a-kind items that you won't find anywhere else. 
Where do you source your products from? Who sources them?
Everywhere! We have wonderful relationships with suppliers from India, China, Belgium, and many other countries across the globe. While I do most of the sourcing myself, many of my team members at Cotswold Grey also have an input into the buying side of the business and often make suggestions for new and exciting items that we can sell both in our shop and online.
How do you decide what to stock?
We simply choose things that we like! We have a passion for culturally-inspired designs and often buy pieces directly from artisans and artists before bringing them home to share with customers in our stores. We regularly check in with our customers to find out if there are gaps in our collections and we always make an effort to fill them!
Do you stock handmade lines, local artisans' work? 
We try to support local artisans where we can. We love finding new and upcoming brands to partner with, and we often have local suppliers drop in to share their latest items with us. For example one of our favourite independent suppliers is Cotswold Pure Botanicals based in Broadway.
Do you stock any well-known brands?
We pride ourselves on having a fantastic working relationship with our suppliers, and we try to ensure that each new brand sits well alongside our existing collections. We work closely with a beautiful Dutch brand called Frezoli for our lighting, and we have just partnered with an exciting new company called Tricer, who offer unique tableware designs that are handmade in Turkey. The brands we stock are always hand-picked with our customer in mind. 
 Do you have/had any celebrity/well known clients or supplied to any prestigious venues? If so, whom/where?
The Cotswolds is full of celebrities and well-known faces, many of whom have become loyal customers of ours over the years! We have also provided pieces for many wonderful venues, for example 131 in Cheltenham.
Encapsulate what your brand is all about in a few words/sentences?
Our style is Country Farmhouse meets Industrial Design. Our collections are often eclectic and full of one-of-a-kind pieces that will make an impact in any interior. Whether you're looking for large pieces of furniture, statement lighting, or artwork, we believe there is something at Cotswold Grey to suit everyone.
Could you tell me about your furniture lines and why you chose them?
Our furniture lines have been carefully hand-picked and purchased directly from artisans and master craftsmen from around the world. From vintage distressed cabinets to luxury sofas and contemporary coffee tables, we pride ourselves on showcasing one-of-a-kind pieces. Our collections are varied and ever-changing, and we're always looking ahead for our next piece of inspiration. Some of our most popular additions include stylish rustic stools, our mid-century writing desk, and mango wood Oslo stools. 
 Could you tell me about your lighting?
Our Frezoli lighting collection includes a fabulous range of floor, desk and table lamps that have the power to transform any home. Our luxurious designs range from contemporary to traditional styles, allowing customers to create subtle, dramatic or sophisticated spaces to suit their interiors. We have a range of bespoke-made lampshades in a variety of colours and materials to complement our lighting range. We are very lucky to be one of the only suppliers of Frezoli within the UK, and we maintain a wonderful relationship with them. 
 What are the top 3 best-selling items right now?
Our customers particularly love our selection of luxury Champagne Buckets, which come in an array of stylish shapes and designs. Our collection of Sofas are also incredibly popular and range from modern and contemporary to timeless and classic designs. Our best-selling Elara Sofa is a Cotswold Grey take on the traditional Chesterfield, while the James Sofa offers a laid-back and effortless look. We have recently launched a collection of new dining tables which are proving to be incredibly popular, particularly the Westcote Farmhouse Table which comes in three sizes.
Which is your favourite item in the store?
Definitely our new 3 metre Westcote Farmhouse Table - a stunningly designed piece that is handmade from Sal Wood. It has been crafted using natural materials that sit beautifully within both traditional and contemporary interiors. It's a firm favourite with the rest of the team too!
Tell me why you call yourselves 'professional collectors'?
I've always had a passion for collecting and even before launching Cotswold Grey I would spend time buying one-of-a-kind pieces from all over the world (even when on holiday with the family!) Now I can continue this passion whilst sharing these unique pieces with everyone else. 
Tell me about your holiday lets and why you decided to branch out in that area?
When we started Cotswold Grey we took on three spacious apartments above the shop that I knew would make ideal accommodation for those on holiday in the Cotswolds. At the time AirBnb and other Booking websites were growing, so I believed it was the perfect time to launch Luxury Cotswold Retreats. It's currently run by our wonderful Head of House, Emma, and we have 9 beautiful properties in our portfolio that are all styled by Cotswold Grey. It's great fun and has been a huge success.