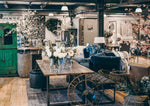 Seven Elements for an Industrial Interior
Good interior design not only speaks for us, but also for itself. A well-styled home is evident in its clear desire to express a certain message, using a distinct style to evoke certain feelings in guests and those fortunate enough to return here every day.
If you're looking for a clear, purposeful style, few are as bold as the industrial look. Often introduced in small pieces here and there, creating a complete industrial interior can be challenging, especially in a versatile space like the home.
If you're looking to create an industrial vibe in your space, some aspects are crucial. From the obvious to the subtle, we go through some of the ideas you should look to incorporate for a flawless industrial finish.
Metal
One of the most common characteristics of industrial design is metal. If you want to achieve this look, then you will need to incorporate at least some metallic items into your interior.
How you incorporate metal is entirely up to you. If you're fortunate enough, you may have girders as part of the house's build. More common, however, is metal furniture in the shape of an exposed table or chair legs, a picture frame or lighting fixture.
If you really dislike the thought of too much metal in your home, pair it with distressed wood. A wooden fixture alongside metal can often help to soften the emotional feeling that metal furniture creates, similar to a complementary colour scheme.
Exposure
As mentioned in the point above, perhaps the only other must-have requirement of an industrial interior is the theme of exposure. Industrial styles are often inspired by old factories which have been battered over generations of use, which is where this theme of exposure likely originates.
Exposing brick walls can add to the old, industrial feel of a room. However, exposure can also be incorporated into sleeker, more modern styles through the use of safely exposed wiring for, say, a light fixture.
Detail
Exposure can also refer to showing the means of construction, whether that's of an entire room through girders or simply the intricacies of a single item of furniture. Here, the theme of detail comes into play – detailed fixtures and fittings go a long way in promoting the industrial feel.
A great example of detail in the industrial style is a clock. A standard clock may only show the time, but an industrial clock may also reveal some of the cogs that are always turning in the background. From large, exposed bolts on fixtures to welding marks on cabinets or chairs, these little marks of craftsmanship add to the industrial feel of a room.
Space
This point is perhaps the most underappreciated of all in the world of industrial design. Often, people looking to introduce this style into their interior proceed to fill it with vintage odd-jobs that end up clogging the space. Great interior designers understand that, at their core, industrial interiors are often minimalist.
Again, this element of space harks back to the origins of industrial style. Factories, while loud and productive, also need ample space for people to move around and operate.
Industrial design, in this sense, is straightforward. Introduce the necessities into a room and a few decorations but no more. Allow negative space to thrive for a sleek finish to your interior.
Warm Lighting
Industrial-style interiors are becoming increasingly popular in businesses and creative office spaces. However, it's one thing to create a lively bar or productive workplace and another trying to introduce the same things in the home.
The most important feature of your home needs to be allowing people who live there to unwind, which can sometimes go against the cold nature of metallic interiors. The key here is the use of lighting.
Warm lighting can work really well with the old and worn feel of industrial interiors while also promoting feelings of comfort and relaxation. Opt for slightly more orange bulbs in industrial spaces, or simply be more selective with the amount of light in a room to help create a cosy space.
Read our blog on ways to brighten a dark room.
Deep Colours
Similar to the point above, the colours you choose play a significant role in the feel of a room. Thankfully, there are many more colour options when dealing with an industrial interior than people often realise.
The majority of colours associated with the industrial style are earthy tones. Grey metals, soft or brick-coloured walls and dull wood hues are common features. However, the industrial style also lends itself to using other metallic shades, opening the door for coppers, bronzes or even golds to liven up your space.
Deep metallic colours work wonderfully well when used in furniture and paired with darker shades. A shimmering gold throw on a dark grey sofa or a copper-coloured chair against a white wall can help to produce those aforementioned feelings of warmth which are vital to having a successful industrial interior at home.
Vintage
As previously mentioned, the industrial style can sometimes come across as a little cold and impersonal. An easy way to fix this is the inclusion of vintage pieces in the space.
Vintage furniture is almost always full of character and charm, while its distressed style plays into the overall industrial theme. Vintage dining tables can add warmth to a dining room, while old wall art or family trinkets can add to the homely feeling of a space.
Hopefully, this article has helped to open your eyes to the amount of variety there is in the industrial style! No matter what kind of home you are looking to create, there is an industrial design that will be perfect for you.
What are your favourite tricks to using industrial features in the home? Share your ideas and connect with our audience through our social media channels!