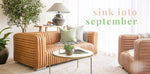 As we near the end of Summer, we want to welcome you into the new season in style. Our curated collection of Autumn-inspired pieces are all about comfort and relaxation, from cosy cashmeres to rich velvets, all with the intention of surrounding you with luxurious style in the cooler months. 
Renowned for its warmth and durability, cashmere makes the perfect home accessory for the new season. With unmatched softness and a lightweight feel, our stunning range of Cashmere Throws are available in soft neutrals, muted tones or colour pops, ensuring they can be tied into any interior scheme. Drape across a sofa, arrange in a storage basket and keep within easy reach for chilly evenings.
A traditional take on the Chesterfield design, our generously proportioned Elara sofas add elegance and sophistication to any home. Beautifully upholstered in gold or petrol blue velvet, these stunning sofas give any living space a sense of depth and warmth.
With nights beginning to drawn in, maximising light in your space is key to brightening rooms and boosting your mood. Our stunning range of mirrors can be carefully positioned to reflect an abundance of natural light while also making a stylish addition to any room. Make a statement with the Tara Inlay Mirror, or add feminine flair with the beautifully ornate Farah designs. 
Transform your dining space ready for Autumn with our Broadway Dining Chair in Chalk Teddy. A contemporary take on the tub chair design, these beautiful chairs are upholstered in a boucle fabric, bringing a sense of warmth and cosiness to your dining space.