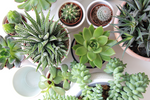 Ways to Decorate Your Home with Plants
Subconsciously, we often add hints of the natural world into our homes; furniture crafted from wood, stone flooring, earthy colour palettes, natural fibres, animal hides and of course, plants, all acknowledge our affinity with the outdoors.

Whether you have a green thumb or are entirely new to the wonderful world of plants, they're an interior staple, and their resurgence in popularity looks here to stay.

Bringing texture and tone, adding plants to your home will not only enhance the aesthetics of the space, but could have several health benefits too! From improving air quality, reducing toxins and, in some cases offering some of the benefits of aromatherapy, plants bring many perks.

If you're considering incorporating greenery into your space, take a look at some of the ways you can add a touch of green and a hint of floral to your interior.
Hanging Plants and Macramé Hangers
To increase the vertical composition and give the illusion of height within a room, place a potted plant on a high shelf or on top of a cabinet.
As you enter, your eye will be naturally drawn up towards the greenery. We recommend easy-maintenance species like a money plant or a trailing ivy – both require little care and can cope with indirect sunlight, making them perfect for new plant-parents. 
If a trailing plant doesn't appeal, a retro macramé hanger can add a soft and textured element to your interior while still helping to increase the feeling of height within the room. Add a pot with your favourite plant and hang it somewhere high to enhance the space within the room.
Easy-Care Options
Not everyone has time to care for high-maintenance plants. Succulents and cacti could be the perfect choice if you are time-short but want the real thing. Drought-resistant, they require little care and can withstand tough environments. Despite their minimal needs, they'll reward you with longevity and year-round interest!
Faking It
If the thought of caring for any living plant is a little daunting or your previous experience warns you away, there are alternative ways you can add a touch of nature into your home.
Silk Flowers
Whether you're looking to add the vibrant colours of spring or the warm shades of autumn, silk flowers bring the beauty of each season indoors without deteriorating or the need for any care beyond a light dusting.
For inspiration, take a look at our gorgeous range of silk flowers and foliage.
Wall Hangings
An easy way to bring the outdoors in is to adorn your walls with beautiful botanical imagery. Pay homage to the plants you're fond of and decorate your walls with nature-themed wallpapers or your framed favourites. Alternatively, source soft furnishings which feature nature; there's a huge range of fabrics and accessories featuring fabulous plant designs.
Alternative Displays
The traditional way of displaying greenery and foliage is fail-safe, but to add an edge and interest to your interior, we'd suggest these creative methods of displaying your new family-members.
Cabinet
Equally as ornamental as any home accessory, potted plants can be added to cabinets in much the same way. You'll need a bright area within your home to place the cabinet, and it must have a glass front to ensure those warming rays reach the greenery enclosed.

Our eclectic range of vintage cabinets is perfect for enlivening your interior!
Cart or Console Table
A hard wearing hand-cart or metal-topped console are ideal for displaying plants. They provide a quirky platform for pots and their rustic, vintage appearance will add character to your space.
Wooden Boxes
Re-purpose old wooden boxes as planters. Gorgeous vintage finds like these old brick-mould and shoe-boxes look fabulous filled with orchids and placed on window-sills, tables and mantelpieces!
Here at Cotswold Grey, we're passionate about interiors and we love sharing ideas. If you've added a touch of nature to your home with a creative plant display or decorated your vintage dining table with flowers, share your photos with us on our social media channels.