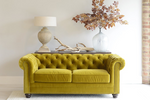 7 Ways to Decorate a Large Interior Wall – What to Do
A large, empty wall can be daunting to design. Yet it is a two-dimensional space that offers a wealth of opportunity.
With flair and clever decoration, you can transform a bare wall into a stylish showcase.
Hang Artwork
A go-to for many interior designers and a classic way of filling a large wall is to hang a large-scale painting or print.
It commands the space and can be an inspirational starting point for your interior design scheme.
Choose one super-size piece or, if you have a long, low wall, fill the space with a triptych for added impact.
Gallery Wall
If you already own artworks purchased over time of disparate sizes, themes and styles, the best option could be a gallery wall.
Arrange a fusion of textures, colours and patterns - matching parallel frame edges to create cohesion.
A long stair wall where an isolated painting wouldn't work is the perfect medium. It can transform a dead space into a dynamic display of art or, if you choose photos, a lovely collection of memories.
Mural
A mural lends a focal point to a room and can bring a blank and soulless space to life.
Although a mural tends to a bespoke piece created by an artist, you could create your own unique masterpiece if your artistic talents permit.
Trompe l'oeil can be especially effective deployed to create the effect of a framed painting or window with a view beyond.
If your creativity doesn't quite cut it, opt for a wallpaper mural instead. With a plethora of themes to choose from ranging from the abstract to nature to world maps, your wall is a blank canvas for you to inject personality.
Wallpaper
If you don't think a mural will work in your interior or you want to cover the entire wall, then wallpaper is a good alternative to create a feature wall.
Whether you're more bold statement or subtle sophistication, the options are endless.
Shelving
Shelving is a quick and easy way to update your interior and add interest and a place for possessions to a large bare wall.
Key to this is that items on the shelves are carefully curated so that it's visually appealing.
A collection of floating shelves can be effective when decorated with favourite books, ornaments and mementos with personal memories and meaning.
Style with contrasting textures, shapes and sizes and limit the colour palette to keep it chic.
Textiles
Adorn your walls with characterful throws, rugs or quilts. Your textiles will look better on the wall than hidden away in storage (and it's better for them).
A Moroccan print rug will lend texture, pattern and character to a space. Use its character and colour to get your interior design juices flowing and bring your room to life.
Why not take a look at our gorgeous selection and begin your search for the next centrepiece for your home?
For guidance on how to choose a rug, our recent blog covers the main considerations for choosing the perfect addition for your home.
Mirrors
Enhancing the light and sense of space within a room, mirrors are a fantastic way to decorate a large wall.
Search for unusual forms, textured or decorative frames for an eye-catching feature.
A large mirror is striking and will bounce light back into a room but a collection of small, mismatched mirrors artfully arranged on your wall can also look stunning.
Do you have a large wall in your home that you're unsure what to do with? We'd love to help you on your interior journey!
Why not pop in-store or browse our website and discover a treasure trove of world-inspired furniture and accessories that could help you to transform your living space!