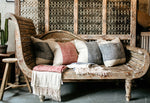 How to Create an Ethnic Vibe
Adventurous souls have always travelled the world in search of new discoveries, but globalisation – from the proliferation of air travel to the dawn of the digital age – has opened our eyes to more places and influences than ever before. 
Globalisation has exposed us to many different cultures and the ability to bring original art and artefacts home from our travels has led to an exponential increase in the use of ethnic elements and influences in interior design.
Ethnic design is characterised by craftsmanship.  It has its roots in traditional skills passed down through generations of artisans. Implicit in its art and artefacts are their uniqueness and hand-crafted qualities: it comes with a strong cultural identity linking it to the places they are from.  Pieces are carved, moulded, woven and printed using ancestral techniques, tools and materials.  
Natural textiles are an important element of ethnic design. Wood, leather, rattan, woven palm or grasses, wool and linen work well with this style. Traditional rugs with the sophisticated swirling patterns and colourways of Persian carpets or the graphic simplicity of a monotone Berber-style rug are great ways to bring ethnic style into the home.  And there is a huge selection of modern rugs inspired by historical styles if your budget doesn't stretch to the real thing. 
Bold patterns are a common feature of tribal design. Vases which echo the form of traditional vessels add an ethnic note to an interior. Colourful Ghanaian Kente cloth can pull a colour scheme together beautifully and works well for window treatments, cushions or simply as a wall hanging.  Bakuba cloth from the Congo with its earthy palette of sand, white and brown punctuated with black has a strong graphic quality and looks fantastic in a modern minimalist scheme. 
For some, an ethnic interior is both a way of showing appreciation of cultures they admire and a visual reminder of memorable experiences and far-off places.  The success of design schemes which meld cultural elements from different countries and continents proves there's no need to be a slave to a single one.  It's perfectly possible to combine artefacts and furniture from across the globe to create an eclectic and original scheme. 
Subtlety is the key to achieving balance.  A beautiful statue or an ornate vintage cabinet makes a great statement piece offset by a plain wall in a contemporary interior, but too many similar pieces in a room would be overkill.  Take your cue from the way art galleries display tribal art when styling your space: gorgeous artefacts look their best beautifully lit against a plain background, particularly when they are full of intricate detail. An antique wooden window mirror for example will stand out beautifully hung on a pale, flat wall. 
There's a tendency to think of ethnic design having its origins only in Asia or Africa, but the word actually means belonging to or deriving from the cultural, religious, or linguistic traditions of a people or country: thus influences from Europe, America and Australasia are just as authentic. A humble stool is almost universal and versatile as a simple seat or perch for plants in a hallway or towels in a bathroom. A traditional wooden trunk – be it a blanket box from Europe or a Dhamchiya wedding chest from India – is traditional in many parts of the world and as useful as it is beautiful.