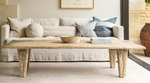 Biophilic Interior Design: What Is It?
Over the last few years, we've all spent more time in our homes than ever before. For many of us, this has sparked a desire to reconnect with nature and make our homes more inviting. If you haven't heard of the term 'biophilic design', we're here to tell you all about this latest design trend and how it could improve wellbeing.
Biophilic design is all about incorporating nature into built environments. Originating from the word 'biophilia', which means 'a love of nature', biophilic design focuses on bringing greenery and natural elements to our indoor spaces. Natural elements such as plants, sunlight, natural materials and fresh air all enhance air flow, air quality and the multi-sensory experience, which improves our wellbeing, health and productivity. So, in short, invite nature into your home and you are sure to enjoy spending more time in your living space!
But how do you incorporate it into your interiors?
Natural Materials
One of the easiest ways to bring nature into your home is to use natural materials. Materials such as wood, linen, clay and wool will add a natural feel to your living space, creating a relaxed environment you can truly unwind in. They are also all durable, timeless materials, so each item will survive plenty of use and love.
Pieces made from natural materials often also have their own unique markings and natural patinas, which will bring personality and a unique touch to your living space.
Organic Forms
Play around with texture and shapes to create an environment that reminds you of your treasured moments spent in nature. Nature is all about soft curves, small imperfections, asymmetrical designs and rough edges.
Antique pieces which showcase rugged edges and a natural, weathered patina perfectly embody natural forms. Our collection of antique dining tables have a wonderfully rustic finish, paying homage to the natural forms found in nature and adding a naturally aged look to your home.
Or, for something a little smoother, we're big fans of the mid-century design style. With its smooth curves and spotlight on buttery soft leather upholstery and sleek iron finishes, this style mixes beautifully with both contemporary and country styles.
Botanical Prints
Play into the natural theme and introduce botanical shapes and patterns around your home. Whether you hang botanical-themed artwork on your walls or incorporate floral upholstery into your furniture, any pattern that reminds you of nature will create a calming environment.
Light Up Your Spaces
Vitamin D (also known as the sunshine vitamin) found in sunlight has been proven to improve mood and productivity. Maximise the level of natural light in a room by moving tall furniture away from windows and decluttering your windowsills. Replacing heavy curtains with lighter alternatives will also make a space feel lighter.
If your room is naturally dark, try introducing layered lighting. This will replicate natural light, especially in the evenings as daylight disappears. Place table lamps in cosy corners to create a soft glow and pair with a natural linen lampshade to really elevate the lighting experience. Candles also add a natural source of light to a room and their flickering flame will add ambience to any living space. Whether clustered together or placed individually around a home, lit candles will add instant cosiness to your living space, making your home feel even more homely.
Mirrors are another excellent way of adding light to your living space, with their reflective surfaces making any space feel brighter and more spacious. Our carved wooden mirrors are a wonderful way of adding light to your space, and with their distressed earthy-coloured finish, each mirror will add a unique eco-inspired touch to your home.
Consider Your Colour Palette
Using a natural colour palette is a subtle way of creating a more natural space. Greens, browns and ambers are all timeless, natural tones which take inspiration from the Earth. If coastal vibes are more your thing, introducing blues and creams will create your very own soothing seaside sanctuary.
Once you have your base colour palette down, you can start to introduce complimentary colours. Adding a pop of bright colour will add personality and a cheerful vibe to a room, offsetting any moody ambience an earthy palette may bring. This Spring, we're loving pairing a light colour palette of creams and beiges with pops of blue.
Mix and Match Pieces
With its array of different species and materials, nature doesn't match one square metre to the next - so why should your interiors? Mix and match different patterns, shapes, colours and textures to create a carefully curated yet relaxed space that is entirely your own. As well as replicating the perfectly imperfect style of the natural environment, this will also create intrigue, providing a multi-sensory experience that will keep both your guests and yourself intrigued to discover what's around the next corner.