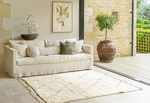 Beni M'Rirt Moroccan Rugs
Sourced directly from the village of M'Rirt in the province of Khenifra in Morocco, our collection of beautiful handmade Beni M'Rirt rugs is sure to transform your living space. Densley knotted using the best quality wool in the region, these carpets have been handwoven knot-by-knot on wooden looms, creating one of the very best quality rugs. Known for their unique style and quality craftsmanship, they are a popular choice for both home decor enthusiasts and collectors.
The whole creation process is completely manual and uses natural resources. It is a traditional process that supports local families and that results in the characteristic plush and shaggy textures. These rugs are designed to last - they are durable, resistant to wear, and will retain their look and feel even in heavily trafficked areas. They are also easy to clean and maintain, adding an extra layer of convenience.
One of the most appealing aspects of Beni M'Rirt rugs is their ability to add warmth and texture to any space. They are perfect for creating cozy, inviting seating areas or for adding a touch of luxury to a bedroom or living room. The designs of these rugs are simple and geometric, with monochromatic color schemes that range from ivory and cream to rich, dark browns. The choice of colors make them versatile and easy to incorporate into a wide range of home decor styles.
In recent years, there has been a growing demand for Beni Mrirt rugs, and many designers and collectors have begun to seek out rare pieces. If you're interested in adding a Beni M'Rirt rug to your home decor collection, check out our full collection online.
This stunning cream and grey Beni M'Rirt rug is an excellent option for transforming your living space whilst adding comfort and style. With neutral tones and a cosy plush texture, this piece will sit perfectly within any interiors scheme. Size: L 280cm x W 175cm.
The Isabella is a cream and brown handwoven rug that is both sturdy and stylish. The simple geometric pattern adds flair whilst natural tones keep an organic aesthetic. This is a deliciously cosy addition to your interior in any season. Size: L 216cm x W 124cm
Like a little more colour? The 'Olivia' is a hot-pink rug with bags of personality. High quality, soft, and durable, this piece simply has it all! Size: L 260cm x W 173cm
The Riley rug is a timeless design that is perfect for upgrading your home interiors or your next interiors project. The colours are fresh and light whilst the texture is warm and cosy. This beautiful moroccan piece sits well within any scheme. Size: L 2.15m x W 1.7m