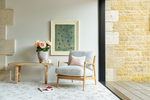 How to style your home for Spring
The changing of the seasons offer the perfect excuse to redecorate our living spaces, and there is no better time to do so than Spring time. As a season known for soft tones and natural materials, Spring is a great time to give your interior a refresh. We've gathered our top tips on how to decorate your home for the new season.
Bring the outside in
Spring is the perfect time to pay homage to the birth of new life and nature around us and bring the outdoors in. If you have green fingers, why not invest in some new house plants? Plants look great wherever they are placed in a home and also help purify the air, making your living space a brighter, happier place to dwell. If house plants aren't your thing, why not dress your interiors with a zesty botanical print? Whether it's a piece of original artwork or a statement wall covered in printed wallpaper, this is the season to lean into all things green and botanical.
Fresh colour palette
This new season is all about fresh colours and soft palettes. Switch up your accessories and reflect the new seasonal palette for the ultimate refreshing interior space. Lighten up a room and dress your favourite lamps with a neutral linen lampshade to add texture and softness to any corner, or swap out a bold and colourful rug for a cosy woven ivory piece.
If colour is your thing, why not inject pops of colour into your home with accent pieces. A contemporary armchair like our Bourton chair in slub washed denim will pop against fresh neutrals, and a colourful handcarved mirror will make a statement in any space.
Switch up texture
A soft colour palette shouldn't stop you from creating an inviting space. Mix and match textures to create interest in your living spaces. Whether you decide to be bold and introduce a textured statement piece or prefer to play around with accessories, switching up texture is an easy way to take a few simple pieces to the next level.
Why not pair a buttery leather sofa with a velvet footstool? Or accessorise your space with a luxurious linen throw draped near a rustic wooden chopping board.
Don't forget your outdoor areas!
With the weather warming up and nature bursting into bloom, we all find ourselves gravitating towards spending more time outside. Whether you have a garden, patio or balcony, spend some time giving your outdoor area some love and you'll reap the rewards on a lovely Spring evening.
Spring brings with it an abundance of flowers and foliage, perfect for planting up both planters and garden beds. Flowers are an easy way of adding colour and life into your garden, but are also great at attracting wildlife too. We love spending a sunny Spring afternoon relaxing in the garden listening to the birds chirp and flit around our heads.
Your garden furniture could likely do with some TLC after the Winter weather too, so check the recommended care instructions and spend some time varnishing, sanding and washing as instructed, ready for alfresco entertaining. Or, for an easy uplift to any outdoor space, check out our garden furniture collection!