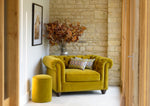 Tips for Arranging Furniture in a Small Space
Interior design is as much about the objects in the room as it is about colours and patterns. Ultimately, the right furniture provides the substance to compliment your unique style, making the space one that everyone can enjoy to its fullest potential. We love pieces that bring out a room's features, but bold statements do not have to mean big items. Intelligent design that captures the spirit of the space can allow style and substance to flourish, no matter the size.

Here at Cotswold Grey, we have a passion for unlocking the potential of interiors through statement features that create a unique personal touch. We've been fortunate enough to work in all manner of spaces over the years and have some handy tips for anybody looking to reinvent their small corner of the earth with some new items.
Create Focal Points
When it comes to arranging furniture in a small space, a clear idea of the room's purpose should be kept in mind. If you are creating a communal space, then the layout needs to be designed with conversation in mind. If you're creating a workspace, then you may look to emphasise a desk or similar location where focus is essential. For effective design, all items in the room should try to provide this focus towards a particular area.

If you're fortunate enough to have a statement feature in your room, such as a fireplace, then placing furniture to highlight the item can add a sense of style without sacrificing space. Otherwise, your focal point will likely come from a piece of furniture, such as a TV or desk. Let that item be the centre of your universe, bringing the rest of the space together around the most important feature of the room.
Maximise Light
This point should be high-priority in every room, but more so when dealing with small spaces. One thing you'll notice with many small areas is that they can quickly feel cramped, and one reason for this can often be poor lighting. Ensure your room remains inviting by considering how the light will travel across your space.

Some small rooms may benefit from windows which should always be incorporated into the room's design. Natural light can do wonders for a place, so consider the focal point tip we gave earlier if you have such a feature available. If your small space doesn't receive much (or any) natural light, then you need to take careful consideration when it comes to your lighting choices. There is a fine line between a cosy interior and an uninviting one, so ensure there is adequate light across your room.
Think Smaller
A simple tip that can make a world of difference, cheat by using slightly smaller furniture than you would elsewhere. For example, instead of a regular coffee table, use a hard-topped footstall that takes up half the space. While it might not seem like much at first, once considered for every piece in the room, you'll be amazed by how much space this trick can unlock!
Consider Height
As previously mentioned, when working in small spaces, you have to consider your statement pieces carefully. Limited place means that traditional statement furniture can easily look clunky and lose its elegance if space is not taken into account. However, there are still many ways you can bring your character to the room; you just have to think outside the box.

One of the best ways to bring character into a small, functional space is by using all the height available. Maximise the potential of your walls by incorporating signature pieces such as picture frames and wall rugs for a dash of style that doesn't cost precious space. If you're lucky enough to have quite a high ceiling, then roof features such as statement lighting can also be incredibly useful when creating a room's style.
Embrace Variation
Design is often a reflection of ourselves, and we should always look to promote this in our spaces, no matter how small they might be. While it's important to use the space available efficiently, a balance needs to be struck between functionality and style. Quirky pieces can have a significant impact in small rooms, as there tend to be fewer items which allows your individuality to stand out. With this in mind, you should look to incorporate a handful of statement pieces, no matter how small, that work together to voice your message to any visitors.

Here at Cotswold Grey, there's nothing we like more than creating unique rooms through authentic items not found anywhere else. We have a wide range of features that can revitalise spaces, from rug patchwork to vintage sideboards and a variety of seating options full of character. If you would like help with designing your room, why not get in contact with us? Our friendly team would love to hear your story.