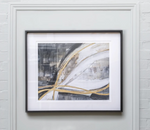 Choosing artwork for your home
Able to influence a room's entire look, carefully selected art and photography are essential to pulling an interior scheme together. While pieces of art should be given thought and consideration when styling a room, its subjective nature means there is no "right" or "wrong". With a wonderful range of new arrivals here at Cotswold Grey, we share a few of our favourites for each room in the home, and offer advice on what you should look out for when selecting your perfect piece.
Bedroom
The bedroom should be a haven of relaxation, which should be reflected in your choice of artwork. Opt for soft, neutral colour palettes and simple, understated designs. Line drawings, like our Legame Print by Valentina Ravagni, work particularly well in a bedroom setting due to their minimal nature and romantic style. These pieces look especially beautiful hung over a bed in a pair to make a subtle statement or among other similar pieces in a gallery-wall style.
Kitchen and Dining Room
The kitchen is often a place of socialising and entertaining, so art displayed here should bring a sense of fun and inject personality to the space. Typography prints, like our Champagne Quote, are perfect for this, with its minimal colour palette able to tie into any existing scheme. If your style is more 'country-kitchen', our Animal Sketch prints or Animal Watercolour prints are great for bringing character and charm to the space and can be displayed as a set, great for larger spaces. 
Bathroom
Bathrooms are often neglected when it comes to styling with Artwork, but this needn't be the case. Bring the outdoors-in with our botanical Go Bananas print, or opt for a calming beach-inspired theme like that of our Shell Schematic duo. These beautiful pieces can be displayed alone or alongside their counterparts, so no matter how much space you're working with, you can be sure to find a stunning print to suit your space. 
Living Room
The living room is the heart of the home and is undoubtedly where your family spends the most time. Whether you create a serene and calming environment with our Grace prints or use the Twisting Vortex print to bring energy and life into the space, be sure to choose something you love as you'll be seeing a lot of it! Our personal favourite for a living space is the multi-aperture Photo Frame 40 x 50 that brings a wonderfully personal touch to your home. This gorgeous frame allows you to showcase your most treasured memories that can be updated for many years to come.