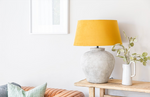 Interior Design Trends for 2022
Within the last couple of years, we've all spent more time than ever in our homes, which has sparked a strong desire in a lot of us to create a space that offers a mix of functionality, comfort and style. Whether it's been converting the spare room to a home office or giving your living space a long overdue refresh, it seems we are all paying more attention to how the design of a room can influence our mood. With the arrival of a brand new year, we're excited to see how the upcoming trends of 2022 can be incorporated into our homes to and continue to develop a space that makes us feel positive and inspired, but most of all...at home.
Maximalism over Minimalism
Interior designer and author Athena Calderone predicts that "neutrals will take a bit of a back seat in 2022" as people start to "experiment with colour again". Long gone are the plain whites, soft creams and natural linens, and instead we welcome the arrival of statement sofas, bold lampshades and vibrant accent chairs. 
Nature Inspired Designs 
After being cooped up inside for the majority of the pandemic, we all now appreciate the outdoors that little bit more. This year, we expect to see a rise in designs inspired by nature, with more and more people wanting to bring a sense of the outdoors-in. Incorporating natural surfaces like stoneware, marble and terracotta, into our homes can help strengthen our connection with nature and bring a true sense of true to our spaces.
Shaped Furniture
Softer shapes and angles will be a big trend in 2022, offering a more inviting feel than harsh lines and sharp structures. Rounded tub chairs are perfect for adding into a home office or dining room, while curved coffee tables make a friendly and welcoming focal point in any living room.
Texture
Bringing warmth and texture into our homes through the use of soft furnishings will be a big trend of 2022 according to Interior Designer Kathryn Ireland. Colourful ceramic accessories, crushed velvet cushions and large patterned rugs are wonderfully easy ways of incorporating this trend into your home while creating a totally different look to your existing space. 


Function
With the pandemic comes the reality that our homes have truly become the main setting of our lives. For the majority of us, they have become the place where we work, sleep and socialise and so making the best use of a space is, and will continue to be, a priority. Even the smallest of rooms can have a function, so think about what you truly need from your space and allow it to bring a practical solution to your day-to-day life. From storage solutions and shelving to dressing areas and desks, each area of your home should serve a purpose and maximise its true potential. 
Shop our full collection here.