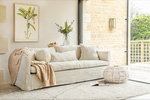 How to choose the perfect Sofa
The living room is the heart of the home, which is why finding the perfect sofa for your space is so important. From afternoon snoozing to boxset binging, it's undoubtably where you and your family spend the most time, so getting it right is key. We've put together a buying guide that will make your decision that little bit easier.
Consider your Lifestyle
Before jumping straight into your sofa search, take a moment to consider your lifestyle and what you may require from a sofa in day-to-day life. If you have pets and children, you may want to opt for a fabric with FibreGuard stain-resistant technology, like that of our Milton Sofa. For larger families, you'll likely want sofa with generous proportions or even a corner or sectional piece. Before shopping, think of your "must haves" and keep those in mind when browsing online or in-store.
Shape of your room
Think about the shape and size of the space you're working with and where you want to position the sofa. For long and narrow living rooms, placing against the wall can visually widen the space, while for generous open-plan spaces, a corner sofa in the centre can be used to create "zones" within the large room. Pairing sofas together can also create a sense of balance in a space, so consider opting for a smaller sofa with a matching loveseat, like those in our Milton Range, in order to achieve this. 
Choose a colour that works with your space
When choosing your colour, consider your existing colour scheme. For neutral living rooms, you may want to use a sofa to inject a pop of colour into the space. For a striking and vibrant option, take a look at our Elara Gold or Elara Petrol Blue sofas and armchairs that offer bold colour and make a true statement. If your room is already full of colour, opt for a neutral and minimal sofa that will compliment and enhance the existing colour, like our Snowshill Sofa. This stunning sofa is also a great option for those whose interior style is constantly evolving due to its ability to tie into any colour palette or scheme. 
Measure up!
Although it sounds obvious, measure up! Before ordering, grab the tape measure and ensure the maximum sofa dimensions will fit, and suit, your space. If you're unsure, we recommend using paper or newspapers to cover the size of the space on the floor to get a better feel for how much room it will take up. This also allows you to walk around it with ease and check you have enough space for everything else in the room! Finally, don't forget to measure any doorways or staircases that the sofa will need to pass upon delivery. You can find all measurements to our pieces on our website, or alternatively you can call our team on 01608 670 600 who are more than happy to help measure things up.
Be selective with fabrics and materials
Choosing the right fabric and material for your lifestyle is one of the most important steps. Soft and highly durable, our brown leather sofas come in one of the most forgiving upholstery colours when it comes to stains, making it a practical purchase as well as a stylish investment. For those looking for a more luxurious option, take a look at our 4 Seater Snowshill Sofa that is upholstered in a premium pure Belgian linen. This timeless piece will create a show-stopping living area in your home that will see you through many years of lounging.
Test them!
Once you have narrowed down your desired sofa, we recommend testing it! Our beautiful Moreton-in-Marsh showroom is filled with a wonderful selection of sofas and armchairs, from the Kingham and Charlbury Range to the Milton and Snowshill pieces, waiting for you to try them out. Head into store where our friendly team will be willing to help answer any questions and offer any advice. 
Visit our store, located at: High Street, Moreton-in-Marsh, GL56 0AD.