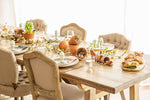 How to Create the Perfect Easter Tablescape
Spring is in the air, skies are blue and the sun is shining, so let's make this Easter weekend one to remember as we celebrate with family and friends. At Cotswold Grey, we're making ours extra special by getting creative and embracing the art of 'tablescaping'; creating a beautifully laid table with wonderful seasonal touches and a not-to-be-missed sweet treats!
We'd love to share with you our top tips for bringing your Easter table to life and for creating a stunning decorative setting that will make the Easter weekend extra special.
Texture 
Texture is so important when it comes to creating a multidimensional tablescape. Create layers with fabrics and napkins that will complement the natural finish of your tabletop. Add contemporary tableware, glassware, decorative pieces, and create height with a final flourish of fresh flowers. This Easter we're loving subtle references to Spring with the contrasting textures of dappled eggs, linen napkins, terracotta pots and soft white blossom taken straight from the garden. We've contrasted our Nordic Sand with our Dark Moon tableware and placed it against the natural textures of our Westcote Farmhouse Table.
Colours
Colour schemes should reflect the season, and Easter veers towards pastels and refreshingly light spring tones. Once you've chosen a colour scheme, begin to build around it to create continuity in your overall design. We love looking to nature for inspiration, which is reflected in our tablescape full of fresh greenery, white blossom and natural hues. 
Nature's Bounty 
Bring the outdoors inside. Seasonal hand-picked blooms can add a soft, fresh feel to a tablescape, reflecting the season and pulling the overall aesthetic together. Add natural items into your display with bowls of quails eggs, feathers or limes to add freshness to your design. To create our spring look, we've used branches of blossom, potted bulbs, and real quail and hens eggs.
Have Fun! 
Creating a visually stunning, Instagram-worthy table is incredibly gratifying and provides a great creative outlet. Sometimes the most unexpected combinations are the best - so be brave and enjoy playing around with new ideas! 
We hope you've enjoyed our top tips for creating the perfect tablescape this Easter. We'd love to see your creations so please share with us on our Instagram page! And whilst you're here, try Charlotte's delicious Easter recipe below! 
Charlotte's Delicious Mini-Egg Cookies
Ingredients
125g unsalted butter (at room temperature)
100g dark brown soft sugar
75g caster sugar
1 large egg
1tsp vanilla paste (or vanilla essence)
300g plain flour
1tsp baking powder
1/2tsp bicarbonate of soda
100g milk chocolate chips (or finely chopped milk chocolate)
200g mini eggs (chopped)
50g mini eggs (whole)
Instructions
-       Add the unsalted butter and sugars to a bowl and beat until light and fluffy.
-       Add in the egg and beat again.  If using the vanilla add now and combine well.
-       Add the plain flour, baking powder and bicarbonate of soda and beat until well combined and a cookie dough is formed.
-       Add in the chopped chocolate and mini eggs and mix, distributing the chocolate evenly
-       Weigh the cookies out into 8 cookie dough balls – about 115g each.
-       Once they are rolled into balls, add the whole mini eggs into the dough. Place the cookie dough in the freezer for at least 30 minutes, or the fridge for an hour or so.
-       Whilst the cookies are chilling, preheat the oven to 200C (fan 180C).
-       Take the cookies out of the freezer put onto a lined baking tray, spacing them quite far apart.  We had 6 per baking tray.
-       Bake the cookies in the oven for 12-14 minutes.  Don't flatten them.
-       Once baked, leave them to cool on the tray for at least 30 minutes, as they will continue to bake whilst cooling.
-       ENJOY (and try not to eat them all at once!)