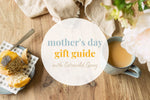 Mother's Day is the occasion to show your mother or mother-figure how much you appreciate her and all that she does for you. But when the time comes, it can often feel next-to-impossible to find a gift that expresses your love and appreciation but that is also a useful addition to their everyday life. If you're not sure where to start, take a look at these wonderfully thoughtful gift ideas, from books to tableware, that will show mothers, grandmas, mother-in-laws, aunts, step-mothers and godmothers just how much you love them.
New in, our wonderful range of coffee table books will inject aesthetic charm into any home. Ideal gifts this Mother's Day, these beautifully designed books cover a range of Interior styles and often draw inspiration from the homes of artists, architects and designs across the globe. From bohemian and eclectic style to rustic, Scandinavian design and contemporary monochrome interiors, you'll be sure to find a match for every type of interior lover.
Ultra luxurious with unmatched softness, our cashmere throws make wonderful gifts for your loved ones. Sourced from India, each blanket has been expertly hand-dyed and woven by talented artisans, making every one unique in both tone and weave. Though it feels weightlessly light and breathable, cashmere has long been prized for its warmth and durability and brings a true touch of luxury to any home. 
Our stunningly simple Gold-Plated Necklaces are perfect for gifting. Beautifully hand-finished, these hammered disc pendants make a real statement whilst offering maximum versatility. These timeless pieces can be worn for any occasion and are ideal for layering with other necklaces from the collection for the perfect finishing touch.
Inspired by nature and lovingly made by hand in the British countryside, our range of scented candles are a wonderful way of encouraging your loved ones to relax and unwind. Bringing a touch of true luxury to any home, each candle is infused with pure essential oils that fills any space with its own intoxicating aroma. These beautiful candles also use renewable soy wax, are all-natural, non-toxic and vegan friendly. 
Did you know we're also hosting two wonderful Candle Making Workshops in the run-up to Mother's day? Get yourself a ticket here! 
Allow your loved one to showcase their favourite blooms in style with our beautiful Ravello Flower Jug. Crafted in Ceramic, the chunky vase has been finished with a distinctive crackle white glaze that has the appearance of exquisite delicate china. Named Ravello after a village on the Amalfi coast, the finish lends itself to that almost ancient Italian feel. A wonderful gift for Mother's Day, this rounded vase is perfect as a dining table centrepiece or sitting proudly on a windowsill filled with their favourite bouquet.
With a variety of values to choose from, the Cotswold Grey Gift Voucher is the perfect gift for Mother's Day and any occasion. Redeemable both online and in-store, the vouchers are delivered by email with instructions on how to use them at the checkout and are perfect for those that are tricky to buy for!