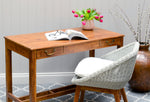 Creating the Ultimate Home Office
There's a new industrial revolution underway. Almost half the working population in Britain has been working from home during the coronavirus pandemic. According to a recent YouGov poll, four-fifths have been doing so full-time. Life under lockdown has got us all thinking about the way we work and the benefits of doing a day at the remote office sans traffic jams or a crowded commute. 
While working remotely isn't for everyone, the number wanting to work from home either part- or full-time has tripled compared to a year ago.  But sofa-surfing isn't going to cut it; nor is squeezing your laptop onto a cluttered, crumbly breakfast table conducive to productivity.  Key to making it work (to coin a pun) is to carve out a dedicated work zone in a location free of distractions. This could be a loft or landing, the spare bedroom or even a nook under the stairs. 
An ergonomic desk and chair are vital: they don't need to match but, when seated, your lower arms and hands should be horizontal and at the correct height in relation to the desk so you can type without bent wrists, thus the ratio of chair seat to desk height is important.  The Cotswold Grey mid-century wooden desk with its neat proportions and curved lines makes a statement in a small space; folding wood console tables with tactile tops in copper, weathered zinc alloy or patina-ed wood are both stylish and versatile because they can be stowed away when space demands.  The ideal height for a desk is approximately 75 centimetres although you could choose a taller one provided you pair it with a higher stool or chair (a desk one metre high will give you the option to stand rather than sit).
Good light is vital for productivity: natural is ideal but unless your window faces north you'll need to add translucent blinds to reduce glare from the sun.  It's best to place your desk at a right-angle to the window so that you are not looking at your laptop against bright daylight.  A good desk lamp is essential: a rustic-industrial directional light or a pair of table lamps placed on opposite corners can look stunning.
Among the lessons learned during lockdown is the importance of multi-functional space in the home.  Fewer meetings at the office offers more time to be productive and being in the sharp focus of the camera lens appears to have made us more effective when we meet remotely. It also makes the designation of a work zone more pressing. A desk that can fold away or double up as an occasional dining table are good options where space is limited. Transform a corner of your garden or a balcony into a temporary home office for the summer with a sturdy stool and portable desk – with a couple more seats for meetings al fresco. 
Add personality to your work space with décor: anything that tells a story such as framed photos on your desk, objects on your shelves of sentimental value collected on your travels.  Think about what inspires you. Hang art that transports you to a different place: it will boost your creativity and is a good distraction from your screen.  Keep your desk clutter-free and go wireless to avoid a spaghetti-junction of cables: if this is impossible, clip or bunch them neatly together out of sight.  An ottoman or pouffe is a flexible study buddy that provides an extra surface and seating for clients.  
Good storage is essential in the home office: wooden brick moulds are good desk-tidies and baskets make capacious filing cabinets. A tall bookcase or shelving unit is ideal for organising manuals, reference books and paperwork. But it needs to be artfully styled in order to provide the perfect backdrop for online chats and meetings (hands-up who hasn't watched a TV interview and been more interested in what celebs put on their shelves than what they are saying?).