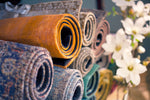 Rugs: How to Select and Style Them
In interior design a rug is a little like a jacket is to fashion: it can pull a look together and without it you – or your room – can look a little underdressed. 
Rugs come in an infinite variety and the choice of colours, styles and textures is endless.  Often described as art for the floor, some are so beautiful you want to display them only on your walls. The type you choose should be influenced by the room it's intended for, taking into consideration in particular the floor covering and the atmosphere you want to create.
Area rugs that occupy the main space in a room can anchor a scheme and look equally good on top of wall-to-wall carpet or hard floors laid with concrete, wood or tiles where they lend warmth and softness to make a room feel more inviting.  A thick-pile Moroccan-style wool carpet will look fantastic on wooden floorboards and feel wonderful underfoot.  It will also absorb noise, an important consideration in an apartment or any other environment where there's a need to muffle sound. 
A rug can be the focal point in a room: a patterned style can enliven a plain interior while a rug woven in a single block of colour can have a grounding, calming effect on a scheme. The colours in the weave can contrast or harmonise with existing flooring and other features but the rug you select should be also influenced by the style of the room.  A coveted antique Persian carpet is both timeless and universally popular but the plethora of modern takes on this enduring style - some designed with faded charm - will bring sophistication without you having to fork out for the real thing. 
Plain carpets with interesting textures are a good alternative to patterned for a busy room:  hand-woven styles in neutral tones are perfect for a boho interior while pastel colours can be used to create a fresh, modern look.  A stunning rug can be the starting point for an interior design scheme – it's often easier to match paint colours and fabrics to it than the other way around.  Softer tones will create calm in a bedroom: step out of bed onto a deep shag-pile rug and it feels beautifully soft and warm under bare feet. And the same is true of a bathroom, where a small rug can provide welcome comfort for damp feet and textural contrast to hard surfaces.
In terms of size, bigger is usually better. One of the greatest mistakes people make when purchasing a rug is to opt for one that's too small – if it's mean it will look as if it's floating and the rooms will appear disjointed.  Ideally your rug should be large enough to arrange your configuration of sofas and armchairs on it – if not entirely, at least the front legs of each piece of furniture need to be placed on it – in order to anchor the space.  As a general rule of thumb, the edges of the rug should be equidistant from the edges of the room at between 25 to 50 centimetres from each wall. 
Runners, long narrow carpets which are ideal for adding interest to confined spaces like hallways, cloakrooms and corridors (while preserving the underlying floor surface) should be laid approximately 10 centimetres from the walls of a hallway on each side and the same or more at each end.  
In a dining area, a rug placed beneath the dining table should be large enough to incorporate the chairs around it even when pulled out, which means approximately 60 centimetres from the edges of the table.  If your interior is open-plan, it's more interesting to choose two different rugs to define the different zones than to match them, but coordinate with a common colour or style. 
Practicalities are important when choosing a rug: a deep pile is soft and luxurious but higher maintenance because it needs vacuuming more often and requires a professional clean once a year.  A flat-weave carpet like a kilim is hard wearing thus ideal for high-traffic areas like hallways. The lack of pile also makes it less of a trip hazard. Because debris doesn't get trapped in its fibres, it's easier to vacuum or beat clean.  And a final point to consider: a weave that's patterned or mottled tends to be more forgiving when it comes to showing marks than a plain one…