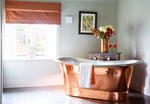 The Secret Power of Copper
For centuries, copper has been a key component in architecture and interior design but the global coronavirus pandemic has put the spotlight on one of its lesser-known properties: its ability to kill germs. 
We've all heard, in the last three months, how pathogens can survive on inanimate surfaces for days or even months (approximately 80 percent of infectious diseases are spread by touch). But viruses, bacteria and fungi are all susceptible to the power of copper, which has been found to prevent the spread of infections that land on it by killing them - in a matter of hours.  Its inherent properties neutralise micro-organisms by interfering with the electrical charge of their cell membranes.
The beauty of copper in all its forms has been exploited for centuries to create items ranging from the purely practical to the artistic.  New copper, with its brilliant shine and unique reddish-pink tone, is best known to most of us in the form of the humble one penny coin.  At the other end of the scale it gave life in 1875 to the towering Statue of Liberty, her surface now time-tarnished to a matt, blue-green.  Verdigris, as this alchemy is known, forms as copper reacts with elements in the atmosphere.  Prized for its roughly textured patina, it coats the domed roofs of iconic buildings old and new forming a protective surface over the precious metal beneath.
New copper works best in interiors where its glossy glow and smooth texture look its brilliant best offset by contrasting colours and materials.  Obvious complementary tones are dark, cool blue and forest green and soft rich textures like velvet.  Copper - shiny or matt -paired with wood can produce subtle and surprising results. Monochrome tones are good foils for copper: black creates drama and white freshens a copper scheme.  Grey can be a cool counterbalance to its warmth, both in soft furnishings and hard surfaces such as marble, granite and slate.  What's not to love about a gleaming copper bath on a polished concrete floor?
Copper is immensely versatile and malleable: it can be burnished, bent, beaten or brushed. It is the only metal apart from gold that is not 'white' and its wide palette ranges from blue/green to pink/red to rust brown/black.  When copper oxidises, it can develop a rich, mysterious patina and turn a dark brown.  More variation is found in its main alloys, brass and bronze, which share its anti-bacterial powers (provided they possess a minimum 60 percent copper).  Brass, created by adding zinc, looks yellow-gold and shiny (cf. the adjective 'brassy'). It has long been used for lighting – to stunning effect in chandeliers - and is a practical, hygienic choice for door and window fixtures. 
Bronze is harder than copper and more resistant to corrosion than iron. Not surprising then that this metal, produced by adding a small amount of tin, has been highly valued by many cultures for millennia and is a prized medium for the creation of statues and monuments.  Copper has been with us for around 10,000 years.  Its discovery in Britain in 2500 BC ushered in The Bronze Age, when our forebears learned to forge copper and bronze into weapons and tools and utterly transformed life.
Its eco-credential is another good reason to love copper.  It is infinitely recyclable: most of the copper used to make things today is recovered rather than newly mined.  This most ancient of metals is the star of contemporary interior design schemes ranging from modern minimalism to theatrical maximalism, from country chic to urban glamour. Whatever your style, there's really no good reason not to incorporate it…