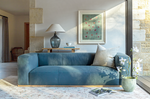 New Collection : Sofas for the Modern Home
Lovingly handmade by expert craftsmen, our new range of sofas and armchairs pack some serious punch when it comes to modern-minded style. Clean lines and mid-century designs set the tone for a collection that will elevate the modern home. The new range sees the return of some of our bestsellers including the much loved Yubberton Sofa and Bourton Chair, with the addition of a number of brand new designs that focus on detail, texture, and visual distinction.  
Upholstered in tactile fabrics that range from natural linens to sumptuous velvets and soft buttery leathers, this collection is not only stylish and of the highest quality, but is deliciously comfortable. Each piece is built to last, with a 10 year Manufacturer's Warranty on all sofa frames.
We have sizes to suit every interior scheme - from snuggly armchairs and cosy loveseats to larger four seater sofas. Take a look at some of our favourites below - we're confident that you are going to love them as much as we do! 
The Bourton Armchair 
The much-loved Bourton Armchair is back. A true statement piece that exudes sophisticated style, this armchair has returned to our stores due to popular demand. Reminiscent of Danish mid-century styles, the magnificent hardwood frame has been crafted from natural ash by skillful artisans and upholstered in high quality fabrics. We're very excited to be able to offer a range of new tactile fabrics this season - including Slub Washed Denim, Basketweave Grey, Cuba Bone, Velvet Cypress (pictured below). 
The Bibury Armchair 
Based on the popular Bourton armchair design, the Bibury has a pared-back look that will add a calming vibe to your interior. The intricately weaved frame extends around the arms to add texture and comfort to the original design, and has been paired with materials that prioritise texture, tactility and visual value. Available in Slub Washed Denim, Basketweave Grey, Austria Shell, Cuba Bone. 
The Oddington Armchair 
The Oddington Armchair is a stylish piece that has been built to last. With a reference to mid-century design and the use of high quality materials, this armchair is sure to make a statement in the home. Clean, uncluttered design principles have been paired with a dense and durable linen-style fabric to create a unique and memorable piece for your home. 
The Cornwell Loveseat 
Create a fresh seating area in your living room, kitchen or garden room this Spring with our Cornwell Sofa. With sleek lines and natural textures, this comfortable mid-century sofa is a clean and stylish piece for your home. Intricate rattan frames have been paired with deep cushions to create the perfect design to sit back and relax with family and friends. Talented craftsmen have combined sophisticated joinery with detailed upholstery to create a beautifully crafted piece that is highly durable. Careful formulas are used across all designs to calibrate depth, pitch, width and rake to make a truly lounge-worthy sofa. 
Available in Basketweave Grey 
The Yubberton Sofa and Armchair
The Yubberton 3 Seater Sofa is one of our most-loved pieces from our original collection. The sofa is upholstered in a soft, high quality Nubuck leather to create a sturdy and highly durable piece of furniture whilst maintaining a natural feel. Simple in design with a hardwood frame, this piece boasts both quality and style.  Leathers are imported from the northern Italian town of Arzignano, renowned for exclusive buttery-soft vintage leathers. Experienced tanneries respond to each batch of raw materials in a bespoke way, in order to faithfully and consistently match colours for each piece. Available in Azure Blue and Tan colourways. 
Pair with the Yubberton Club Armchair (in Azure Blue and Tan), the little brother to our Yubberton Sofa design, to create the perfect living room setting for this season.