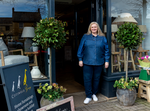 Meet Jo: Our Moreton Store Manager
This week we sat down with Jo, our Moreton-in-Marsh shop manager, to find out a little about her and what brings her joy in life. From her journey into interiors to her favourite Cotswold Grey products, she gives us an insight into her day at our flagship store.
Jo, tell us a little bit about yourself. 
I'm a very family-orientated person and love spending time with family and friends. We have recently welcomed Molly the little Cocker Spaniel into our family and she brings me so much joy! I also love discovering new restaurants and bars and going to the theatre whenever I can. But my true love is visiting Cornwall every year, particularly Fowey. There's something about being close to the sea that is so calming and special – and you can't beat the fresh fish at the local restaurants!
How did you get into the world of interiors?
As cliche as it sounds, I would have to say from shopping! I've always loved to shop so it was only natural that when I bought my first house, my shopping habits turned from clothing to interiors. That was when I really got the interiors bug!
What did you do before joining Cotswold Grey? 
When I was younger, I wanted to be an actor and that's where my journey into retail started. I worked as a Saturday girl whilst studying for my equity card in theatre, but the world of retail hooked me very quickly and it wasn't long before I started working full time at Next on Oxford Street. Over the next 20 years I worked my way up through the company, launching large stores and developing teams of 200 staff.
I loved spending time on the shop floor speaking to customers, and it was only once I had progressed to Area Manager and managing 18 stores across North London without a base store that I realised this was one of my passions. So I went back to my roots and moved into the home sector, starting with The White Company before moving onto Blue Diamond to launch their first ever interiors store. It was here that I discovered Cotswold Grey and I fell in love with the unique pieces, so when a position became available at the Moreton-in-Marsh store, I jumped at the chance to join the team! And I haven't looked back.
What makes the Moreton-in-Marsh Cotswold Grey store so unique? 
The history of the building. I love that the building used to be a working Ironmongers when it belonged to Simon's (our founder) father and it still holds all its character and original features. Lots of our customers are local to us and remember how the building and Moreton used to look – it's lovely hearing about their fond memories!
Next year marks our 10 year anniversary here in Moreton and I love it when our previous customers come back and show us pictures of their Cotswold Grey pieces in their homes. The Moreton store has a wonderful relaxed atmosphere which really helps our customers settle in while they find those special pieces. 
What is your favourite product?
That's tough! I love so many Cotswold Grey pieces. If I had to choose just one, I would say our Snowshill linen sofa. It has such a lovely relaxed feel about it and you can't help but take a seat and try it out. I love that it comes in a variety of colours too. My favourites are the flax and olive, they just work so well with the warm Cotswold stone.
What's a typical day like in your store? 
Every day is different in the flagship store and I love that. I always begin with setting the team up for the day, making sure everyone is happy and knows what they are doing. Then we'll work our way around the shop, tidying the shop floor and filling gaps on the shelves.
Some days I'll be packing online orders and following up on enquiries, other days I'll be working on buying new products. But you cannot beat a day when new products arrive. There's nothing quite as exciting as unboxing new pieces and dressing the shop floor and windows with newness!
How would you describe the aesthetic of the Moreton-in-Marsh Cotswold Grey store? 
Relaxed, friendly and with something for everybody. We often get told the store is like a tardis treasure trove! Our Moreton store has a lovely atrium extension, beautiful garden space and two extra showrooms at the bottom of the garden, which makes us a great place for a mooch.
Finally, what is your cocktail of choice? 
A Pina Colada or a Mai Tai!