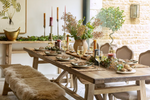 How to Create The Perfect Festive Tablescape
One of our favourite ways to get into the festive spirit is to create a beautiful tablescape ready for the big day. Whether you are preparing for a large family gathering or a small festive lunch, tablescaping is a great way to transform ordinary entertaining into a special occasion, leaving your guests with smiles on their faces and memories to treasure.
To help make the big day a little bit easier, we've put together this guide to creating the perfect festive tablescape.
Settle on a scheme
Whether you opt for a traditional red, white and gold inspired scheme or decide to push the boundaries and choose something a little more ornate and contemporary, settling on a scheme is one of the most important initial decisions to make. We chose to showcase a rustic nature-inspired setting, drawing inspiration from the colours and textures found in nature at this time of year.
Create a show-stopping centrepiece
The perfect centrepiece might seem a little daunting at first, but we think even the simplest of centrepieces can be beautiful! For a simple and effortless display, fill a vase with your favourite seasonal flowers and greenery and place in the centre of the table with more of the foliage scattered down the length of the tabletop. We filled one of our antique terracotta pots with our silk faux flowers - the perfect alternative to real flowers as your tablescape will stay fresh for as long as you want it to! Or, for the adults in the room, why not use a champagne bucket filled with bottles of fizz or other refreshments as your centrepiece?
Set the mood with lighting
Warm coloured lighting is the most welcoming as it creates a sense of warmth and cosiness, even if it's cold and dark outside. Try grouping together candles of different heights and colours to add interest along your table top, but make sure your guests can still see over the top! Candles are also a great way to add scent to the room - why not light mandarin and cinnamon scented candles to really give your guests that festive feeling?
Or if you find yourself setting a tablescape for guests of all ages, try using fairy lights instead. Battery-operated fairy lights are a great family-friendly alternative, especially if you have a smaller table or elaborate centre piece!
Mix and match your tableware
Don't be afraid if you find yourself without a matching set of tableware this Christmas. Make the most of the opportunity and mix and match your tableware to create a medley of beautiful patterns and textures! We chose to mix our light moon and crater collections, bringing out their complimentary earthy tones with our napkins and place mats.
Cosy up your seating areas
Adding soft furnishings like cushions, cashmere throws or sheepskins can really take your seating to the next level, especially if you've had to round up all the odd chairs and stools in your house to accommodate for all your guests. We love a sheepskin at this time of year - sumptuously soft and beautiful, your guests will have a hard time leaving their seats after eating their fair share of Christmas dinner!