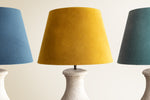 How to choose the perfect lampshade
The power of good lighting should not be underestimated. The right lamp can be used to make a statement, create a cosy corner, or add a pop of colour to your room. The best way to find the perfect design is to take into consideration the size, the texture, the colour and the shape of the lampshade, and to then think about its relation to the setting and the base. 
Finding the right lamp base and shade is no easy task! We've put together a guide on how to measure your lampshade, and how to pick the right design to transform your interior. 
Use colour to create ambience or a focal point 
Bold, understated, plain or patterned. There are so many options to choose from when it comes to the appearance of your lampshade. Much of this decision comes down to personal preference. Opt for something plain if you have a very lively base, or create a unique focal point with a patterned or bold colour choice. With bold colours it's often interesting to echo the colour somewhere else in your room - perhaps tie it in with your cushions, curtains or rug. It's also important to consider the ambience that you're trying to achieve with your lighting. For a bright summer room choose a light or natural colour, whereas darker colours work well in warm cosy settings. If your sole purpose is to use the light to read, then make sure plenty of light transfers through the shade!
Play with textures to create interest and depth 
Our handcrafted brushed linen and velvet shades both make for an elegant and tactile lampshade, yet the two textures result in very different aesthetics within a room. Linen works well in an organic, natural setting, whilst the velvet creates a sense of depth, warmth and sophistication. Different textures transfer different amounts of light, so make sure you take into consideration the opacity of your shade as well.
Let your base dictate the shape of your shade
The shape of the lamp base will usually dictate which shades will work best — for example, square bases typically go with square shades and slim bases pair well with sleek shades. There are always exceptions, especially if shapes mirror those of the table or other elements within the room. Ultimately, try them all out and go with your favourite!  
Our top tip on achieving the perfect proportions
To achieve a perfectly proportioned look, the base width of your shade should be three-quarters of the height of the lamp base and it should be slightly wider – except in the case of a tall thin lamp which can take a smaller shade. As a rule, what's considered most aesthetically pleasing is when the contours of the shade and the base are similar.
Here at Cotswold Grey we've worked hard to curate a wonderful new range of handcrafted empire, drum and oval lampshades. Available in a range of colours, shapes and high quality fabrics such as brushed linen and velvet, you will be sure to find something that will transform your interior space.