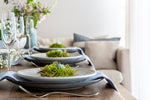 How To Create The Perfect Easter Tablescape
As we prepare to celebrate with friends and family, let's make this Easter weekend one to remember. Here at Cotswold Grey, we're making this Easter extra special by embracing the art of tablescaping. With seasonal touches, fresh colours and plenty of not-to-be-missed sweet treats, there is plenty of fun to be had when decorating your seasonal table.
Pick your colour palette
When planning your Easter tablescape, one of the most important things to do is to choose a colour scheme. We recommend choosing a palette that reflects the season, veering towards soft pastels and refreshing light tones. If you want to add a pop of colour to your scheme, why not add a bright, fresh colour to your palette, which is perfect for accent pieces. We chose a palette of soft blues and creams, interspersed with natural browns and greens to create a rustic nature-inspired table. Our Broste Nordic Sea collection is the perfect tableware collection for Spring entertaining.
Use natural materials
With the arrival of warmer weather and sunnier days, Easter is the perfect time to bring the outdoors inside. Handpicked seasonal blooms are a great way of reflecting the season whilst adding a breath of life to the table. We decorated each place setting with foraged moss from our own gardens and wispy flowers, but there is an abundance of flowers and foliage to choose from at Easter. Natural textures such as wood and linen can also add a softness and interest to your table, ideal for the Spring season.
Add the finishing touches
Whether it's a fresh set of egg cups to hold Easter eggs for each guest, a mouth-watering cake placed in the centre of the table or elegant candles waiting to add ambience to the room, don't forget to think past your chosen tableware and foliage! The finishing touches are a great way of adding a personalised touch to your table and really make your tablescape come alive!
Don't forget the chocolate!
No matter the age of your guests, everyone loves chocolate. We've chosen to decorate each plate with pretty chocolate eggs, perfect for your guests to enjoy as a pre-dinner snack whilst you are pouring the fizz!